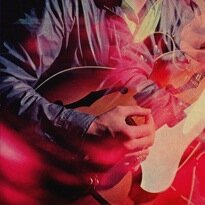 Chromatics: Kill For Love
are finally back. After their very promising debut they took some time to come back with an album that finally shows the full potential of what Johnny Jewel & co is capable of. Where «In The City» left off this album continues and even goes beyond. Dark, mesmersizing tunes that would make the perfect soundtrack to «Drive II». «The Eleventh Floor», «Dust To Dust», «The Streets Will Never Look The Same», or «Broken Mirrors» for instance are truly score at its best (why did they not use it fot the latest McGregor flick «Perfect Sense»?). But then you also have mesmerizing songs like «Birds of Paradise» or the Neil Young cover «Fade To Black» (the one one with the Kurt Cobain's last famous words reference) that lift you up to pop heaven. The Joy Division homage («The Page») can be felt all through the set, but then it's 2012 and even if you hear the crackling sound of vinyl in the back you're assured this is the sound of now. If 4AD would still be a real contender they would have signed Chromatics a long time ago (see This Mortal Coil). American Gigolo all in your face. Hauntingly good.
Murphy Jax: Acid Housekeeper
Probably the biggest house track in 2011, «This Is The Music» put Murphy Jax on the map. As vintage as it the latter track was, this new jam hits again on the Chicago house scene of early 80's. But then it's so good, you don't really care when it came out. Be assured that this is one of the tracks that will make floors go bezerk this summer.
Nite Jewel: Autograph
LA based siren Ramona Gonzales aka Nite Jewel hits us with her second proper album («One Second Of Love»). It's much more less a This Mortail Coil/Julee Cruise rip-off than feared. Her dreamy voice finally comes to full fledge and the songs she writes are as poppy as it can go. Forget about the darkness of her former releases on Italians Do It Better and enjoy the lighter sides of life. One of the female voices of 2012. Enjoy!
Sly & Robbie: Blackwood Dub
have seen it all, recorded with almost everyone important in the biz (too many to name just a few) and have a backcatalogue probably bigger than every other in this world. To call them legends is an understatement. Now they surprisngly return with such a stunner of a dub masterpiece! It's almost intimitating for anybody doing dub nowadays. Learn from the masters!
Michae Kiwanuka: I'll Get Along
Facebook Ads boasts Kiwanuka as the modern Marvin Gaye. How stupidly wrong can you advertise? Since last years «Tell Me A Tale» we know that this dude is more of like the next Bill Withers or any black folky singer/songwriter than a proper soul crooner. Catchy sing a long tunes that fit spring perfectly well. Finally his long awaited debut «Home Again» hits the streets and this is one of the tunes we will be having on our stereo all seasons long.