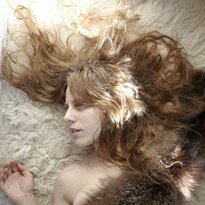 Doe Paoro
is a Syracuse-born singer, now based in Brooklyn. She describes her music as «ghost soul» and combines piano and acoustic guitar with drum beats and vocoder cuts. Above all is a haunting voice knowing blues as weil as soul and unusual singing techniques like Lhamo - a Tibetan-style opera she studied. It shows Doe Paoro as a vocal force to be strongly heard in the future.
The album «Slow To Love» was self-released February 2012.
a song that reminds you of school
Dennis Alcapone – Teach The Children
best concert you ever attended
All night tabla/sitar concert at Saint John the Divine with Samir Chatterjee.
your boozed up anthem
Ghostface Killah – Saturday Nite
a song guaranteed to make you feel depressed
Cat Stevens – Trouble
record you were looking for the longest
These Kora recordings I had bought in Botswana and then lost. Still looking.
a record you fell in love to
Van Morrison – Astral Weeks
first record you remember
«Free To Be... You And Me»
A record album and illustrated book by the Ms. Foundation for Women originally released 1972.
the song to be played at your funeral
«St James Infirmary»
The Louis Armstrong version.
a song that evokes the greatest summer of your life
The Band – Ophelia
From the album «Northern Lights – Southern Cross», that song is eternal summer.
your guilty pleasure song
Peter Cetera – Glory Of Love
I don't feel guilty about anything but I do love that «Karate Kid» theme song.
your ultimate heartbreak song
Bon Iver – Skinny Love
your liberation anthem
Nina Simone – Ain't Got No (I Got Life)
perfect anthem for New York
Gil Scott Heron – New York Is Killing Me
Morales Ramos – Que Bonito Bandera
your party anthem
Robyn – Body Talk
first record you bought
Whitney Houston – Whitney
a song that reminds your friends of you
Mary J Blige – I'm Going Down
a song you would use as a ring-tone
1995 Chicago Bulls theme song
a song to seduce you
Mario – Braid My Hair
your sunday morning song
Desmond Dekker – Israelites
a song you wish you'd written yourself
«Happy Birthday. Cha ching!»