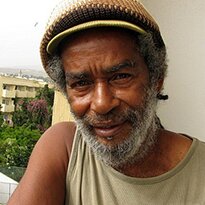 Max Romeo
has had an impact on roots reggae like no other Jamaican singer in the 70's. His work with producer extraordinaire Lee «Scratch» Perry in the late 60s was the start to his stardom. «War Ina Babylon» and «Chase The Devil» are essential reggae.
Which song do you listen to when...
you camp in the desert?
Frank Sinatra - My Way
you cook?
Jacob Miller - Tenement Yard
you are in a depressive mood?
Whitney Houston - One Moment In Time
you drive into the country?
I listen to the birds singing.
you make love?
Serge Gainsbourg & Jane Birkin - Je t'aime... moi non plus
you wake up?
Louis Armstrong - What A Wonderful World
you wash your hair?
It's hardly ever that I wash my hair by myself...
a record you fell in love to
Elvis Presley - You Don't Have To Say You Love Me
first record you remember
Bobby Day - Rockin' Robin
a song that evokes the greatest summer of your life
Sam Cooke - Only Sixteen
best song by Lee Perry
Bob Marley & The Wailers - Small Axe
your liberation anthem
The Melodians - Rivers Of Babylon
«By the rivers of Babylon... where we sat down... and there we wept.. when we remembered Zion...»