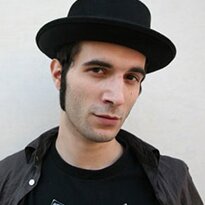 Munk
is the musical project of Gomma label co-founder and boss Mathias Modica. Hailing from the same city Giorgio Moroder once reigned over Space Disco, Munich – Modica is one of Germany's most influential dance music purveyors. He is now living in Marseille and Berlin and is producing Die Sterne and Dancing Pigeons.
«No Milk» was released in 2009 on Gomma.
Buy on iTunes
Which song do you listen to when...
you relax on a beach?
Biermösl blos'n
you ride a bicycle?
Queen - Bicycle Race
you prepare for an important date?
Böhse Onkelz
you drive a car late at night?
you fall asleep?
Schönberg - Moses und Aaron
you make love?
Aram Khachaturian - Säbeltanz
you meet your parents?
Messiaen oder neapoletanische Canzoni.
you have to answer an elusive questionnaire?
Charles Mingus
Und die Tagesschau läuft auch grad nebenbei und der Nachbar übt Geige.
you sit in the subway?
Willy Michl
you wake up?
Deutsche Nationalhymne