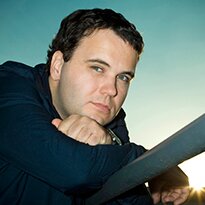 Ian Pooley
has been bridging the gap between techno and house, creating superb tracks such as the massive «What's Your Number», as well as recording more housier and disco oriented workouts for labels such as John Acquaviva's Definitive Records, Effective Records and N.R.K Sound Division. The German DJ and producer also remixed Daft Punk, The Cardigans, The Beloved, Green Velvet and many more.
«In Other Words» was released in 2009 on Pooledmusic.
Which song do you listen to when...
you take a bubble bath?
Eggstone - Vive La Difference
you relax on a beach?
Marcos Valle - The Essential Vol.1&2
you ride a bicycle?
Supergrass - Going Out
you go to a club?
Phoenix - Too Young
you cook?
Biz Markie - Spring Again
you are in a depressive mood?
The Verve - Gravity Grave
you drive a car late at night?
Kraftwerk - Autobahn
you make love?
Missy Elliott - One Minute Man
you jump out of a plane with a parachute?
Gloria Gaynor - I Will Survive
you meet your parents?
Kraftwerk - Trans Europa Express
you play a game of chess?
Manuel Göttsching - E2-E4
you wake up?
Roy Ayers - Everybody Loves The Sunshine