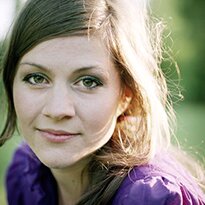 Heidi Happy
is a Swiss pop musician, who started her solo career in 2005. It didn't take long until she got the critics' attention and after some minor success abroad, the most credible band ever to emerge from Switzerland, Yello, asked her to sing on their new single «Toch». Heidi Happy lives now in Amsterdam.
web
«Flowers, Birds and Home» was released in October 2008 on Little Jig Records.
Which song do you listen to when...
you take a bubble bath?
Frank Sinatra - Strangers In The Night
you go to a club?
Am liebsten etwas, das ich weder kenne noch erwarte.
you prepare for an important date?
Ich glaube, ich würde was hässliches abspielen und seinen Humor und seine Ehrlichkeit testen.
you destroy a hotel room?
Aber, aber, Heidi verwüstet doch kein Hotelzimmer!
you want to disturb your neighbours?
Frank Sinatra - My Way
you drive a car late at night?
Da hab ich nichts zu sagen. Hab selber kein Auto.
you are love sick?
Feist - So Sorry
Meistens bin ich die, die was falsch gemacht hat.
you make breakfast?
Johann Sebastian Bach
Das Weihnachtsoratorium. Das lenkt mich vom Hunger ab, weil ich das mal im Chor mitgesungen hab und noch immer versuche mitzuhalten.
you make love?
Rita Reys - One Less Bell To Answer
Braucht bei mir aber hoffentlich mehr als einen Song.
you meet your parents?
Sonntags immer klassische Musik, die mich meistens nervös macht. Dann darf ich was anderes auflegen. Zum beispiel «Guete tag». Die legendäre Platte, die einst meine Mutter besungen hat.
you sit in a plane?
Wenn ich wüsste, wie der Song heisst, den sie immer abspielen, würd ich den sofort verbieten.
you wash the windows of a skyscraper?
Johnny Cash - Bird On A Wire
you sit in the subway?
Das Pop - You
you wake up?
Gilbert Bécaud - Nathalie
Der macht mich immer wieder glücklich.