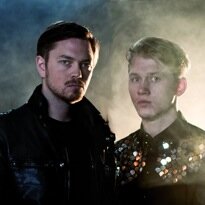 Johnossi
is a Swedish rock band. The two friends John Engelbert and Oskar «Ossi» Bonde have scored a record deal already after three live gigs and released their first album in 2005. «Man Must Dance» was the biggest hit in Sweden of that year. After three albums they now are one of the leading acts of Sweden.
«Mavericks» was released in 2011 on Universal.
What is your favorite city
favorite band hailing from the city?
J: Hmm... from Stockholm... I can't remember a band from Stockholm right now. But let me tell you some great bands from Sweden: Silverbullit, Broder Daniel and Refused.
favorite club?
J & O: We're not going out that much in Stockholm. We are more the home party types. Since we are on tour our whole life is one big party, so we need to calm down when we're back in Stockholm. Meet some friends, cook together, spend time with our girlfriends, stuff like this.
best day of the week in the city?
O: Tuesday! Because you need monday to recover from the weekend and on tuesday you'll be probably able to go to work without being drunk anymore.
what should one eat when in the city?
J: Meatballs with mashed potatoes, lingoberry at «Prinsen». This is a classic brasserie at Mäster Samuelsgatan. Yummy!
where do you kiss the last time (or where would you like to)?
J: I kissed my girl good-bye at the airport.
best movie that takes place in the city?
Jo: The Mods Trilogy by Stefan Jarl. It's basically three parts of a documentary from 1968 about mods culture. It's called «Dom kallar oss mods» and tells the story of Swedish mods.
favorite restaurant?
J: I really would recommend «Teatergrillen». It's at Nybrogatan 3. It's a small restaurant that serves light dishes.
favorite place to shag?
J: In my bed. Or... let's say in my apartment. I don't shag around in public areas.
which song fits the city the best?
Lasse Berghagen - Stockholm i mitt hjärta
J & O: Lasse Berghagen - «Stockholm i mitt hjärta» (Stockholm In My Heart)
favorite sports team?
J&O: Djurgarden (soccer team)
favorite street corner?
O: Tjähovsgatan/Östgöagatan. I like this corner just because my apartment is there. But there's an awful bar too, that I really hate. So it's a kind of «hate/love» between me and this corner.
Questions answered by: John (J) and Ossi (O)