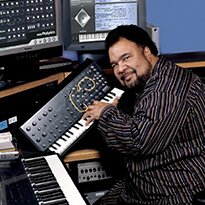 George Duke
is one of the best jazz keyboard players ever. At least according to the late Miles Davis. But he is also one of the best pop producers this planet has ever seen. Michael Jackson, Aretha Franklin, Natalie Cole, Stephanie Mills and Jill Jones all have had the luck to work with the genius called Duke. His catalogue enfolds more than twenty albums recorded under his own name, which resulted in two Grammys so far.
«Déjà Vu» was released in August 2010 on Heads Up.
Buy on iTunes
a song that reminds you of school
Cal Tjader - Afro Blue
This became the first tune I learned when I formed a band in high school. Since we only knew three or four songs, we wound up playing «Afro Blue» in as many different styles and configurations as we could.
a song guaranteed to make you feel depressed
The only music that makes me depressed is BAD music. By that, I mean music that is not created from the heart - style and idiom is of no concern.
a record you fell in love to
Milton Nascimento - Clube Da Esquina
The frist time I went to Brazil. I purchased this album, and it changed my life. The rhythms, the melodies, the concepts - this is one incredible album!
first record you remember
David Fathead Newman - Hard Times
Produced by Ray Charles. This record had a tremendous effect on me. The combination of jazz, gospel and R&B, at that time, was a unique blend - one that affected me for the rest of my life and career!
the song to be played at your funeral
Milton Nascimento - Bridges
I have always loved this. The ultimate song for me has always been and will always be the merging of a great lyric with a great composition and melody. This song represents that achievement.
a song that evokes the greatest summer of your life
The Clarke/Duke Project, Volume 1
evokes memories of my greatest summer ever - being on tour with a "hit" record, playing large venues, partying and generally just acting crazy and getting paid for it!


your ultimate heartbreak song
George Duke - No Rhyme No Reason
My own song «No Rhyme No Reason» is my own personal ultimate heartbreak song. The lyrics to this song represent a personal part of my life that actually took place, for the most part, in Montreux, Switzerland during the festival. I will never forget those moments!
your liberation anthem
Lift Every Voice And Sing
«Lift Every Voice And Sing» has been an inspiration to me since I was a kid. In fact, it has been considered the Black National Anthem for many years, and my mom made me aware of the song and what it represented while I was very young.
best Miles Davis song
Miles Davis - Four And More
This is tough - I love so many!! If I had to choose one, I would probably choose «Four and More» because of its' rawness. It's a live album that shows the incredible creativeness of a band at its' best.
a song you wish you'd written yourself
Chaka Khan - Through The Fire
It is a great song musically and lyrically. I wish I'd thought of that!