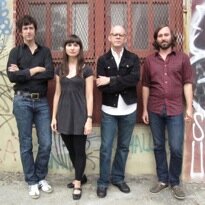 Wooden Birds
is the new project by Andrew Kenny who is also the driving force behind the lo-fi band American Analog Set. Sounding something like a rustic, Neil Young-influenced spin on Kenny's previous work, the Wodden Birds nod to likeminded acts like Bon Iver and Iron & Wine.
«Two Matchsticks» was released in June 2011 on Barsuk.
a song that reminds you of school
The Cure - A Forest
I put a lot of miles on my car listening to this. This would be high school I guess.
perfect anthem for Austin
I don't think Austin has an anthem. Austin's a patchwork quilt of a scene and I hope it always will be.
best Beatles song
The Beatles - Tomorrow Never Knows
I'm more of a Stones guy, but I can usually get down with «Tomorrow Never Knows» because I like the production so much.
best concert you ever attended
Ride
On tour for «Going Blank Again». That was the most hype walk out I've ever witnessed.
a song guaranteed to make you feel depressed
Elliott Smith - The Biggest Lie
record you were looking for the longest
Galaxie 500 - Blue Thunder EP
I searched for this high and low for a long long time. I finally found it in a tiny record shop in New York. I guess the guy that ran the shop could tell how excited I was. He told me that Dean came in there every few months and gave them one to sell. «Dean Wareham held this», I remember thinking. I met Mr. Wareham a few years later when the AmAnSet opened for Luna but that's a moment for another list I think. Nervous moments? Favorite jackets I don't own anymore?
a record you fell in love to
Cat Power - You Are Free
This was just out when I met my wife.
first record you remember
«It's A Small World»
I remember I had a bunch of Disney soundtrack 7-inches but this is the first one that comes to mind.
the song to be played at your funeral
No music at my funeral, please?
a song that evokes the greatest summer of your life
The American Analog Set - Know By Heart
Please forgive me. I wrote it, but that was a great summer. Simpler times.
your guilty pleasure song
Flo Rida - Low
your ultimate heartbreak song
Sun Kil Moon - Duk Koo Kim
It's hard to pick just one. It would be hard to just pick 10. I listen to a lot of sad music.
your party anthem
The Hidden Cameras
I don't know anything about anything or anyone when it comes to dancing. I'm a goofy shithead that nobody wants to see move around. But whenever I put on The Hidden Cameras, I feel like dancing.
first record you bought
The Go-Go's - Beauty & The Beat
I THINK this is right. I remember riding my bike back from the record shop and I don't remember buying anything before that.
a song that reminds your friends of you
Notorious B.I.G. - Warning
Wow, I've n-e-v-e-r thought about this. I just asked my wife and her first response was «Warning» and I guess we both just learned something about me.
best soundtrack ever
Pink Floyd - Obscured By Clouds
Rushmore OST
I like Pink Floyd's «Obscured By Clouds» but I've probably listened to «Pretty In Pink» more times in my life. These days, I'll take «Rushmore».
your sunday morning song
Lately it's been the network football theme. That's how I spend my Sunday mornings from September til January.
a song you wish you'd written yourself
The Magnetic Fields - The Dreaming Moon
The Analog Set covered it on a tour in 2002 because we never got to hear them play it.