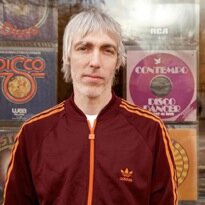 Al Kent
is a long-time soul and disco DJ from Glasgow. Along the way he has released albums on BBE as Million Dollar Orchestra and more importantly started his own Million Dollar Disco label. His compilations (most notably on BBE) are always astoundingly profound exams of rarities and gems.
«Disco Demands - A Collection Of Rare 1970s Dance Music» was released in December 2011 on BBE.
a song that reminds you of school
Small Faces - Sha La La La Lee
When I was at school, and still to this day I try to be different from other people when it comes to music. Everybody at my school was listening to U2, Pet Shop Boys and stuff that I wasn't into. I was a mod for years. And I remember once at lunch time at school I found this Small Faces album at a record store. I didn't really know who they were but I liked the look of it. There was a nice picture of a bunch of mods infront and some on the back. So I bought it and when I brought it back to school I got laughted at cause people didn't know what the hell I was buying this record for. It was a greatest hits album and this is the song I remember I played to death. And everytime I hear it now it makes me remember that time.
record you were looking for the longest
Curtis - How Can I Tell Her
I had it on a 7" but I always wanted it on 12". But anybody I asked about it always said that there isn't a 12" version of it. But I knew because I've seen it once in somebody's collection and been looking for it for years after that. Every record dealer that I know, every shop I went to I was always asking about it and still nobody believed me that it existed. Eventually I managed to find the producer's son who had a few copies I could get for a very decent price. But that one took my about six or seven years of constant looking until finding it.
perfect song to end a party with
Four Below Zero - My Baby's Got E.S.P.
Simply because a few months ago we had this party in Glasgow and just by sheer chance I packed that record five minutes before I left. I didn't really intented to play it but just took it along with me. And then I played as my last record and I've never seen a reaction like the reaction I got then. The place just erupted, everybody was singing along at the top of their voices. Even after we had to stop they were still singing it.
a record you fell in love to
Janet Jackson & Luther Vandross - The Best Things In Life Are Free
It's kind of a strange one for me because I'm not a big fan of that kinda style of music. But they played this tune at a soul night I had gone to with my girlfriend, who I'd been seeing for only a very short time. This was like the first time we were on a proper date and went out to have a good night out together. She wasn't really into soul music and didn't know a lot of the music that was played. And unusually for a soul night that was one of the contemporary records that filled the floor. So we danced to it because that was obviously the one record she did know. And through that we got closer. I guess that's when we fell in love and we're still together to this day.
the song to be played at your funeral
Ruby Andrews - Just Loving You
It doesn't have any connotations to death or funerals. It's just been my favourite record for most of my life. And it's another one no matter who many times I've heard it I'll never get sick of hearing it. I can play it today, tomorrow or for the next month and I'd still get the same feeling that I got when I heard it the first time. I just absolutely love it to death. So yeah, play that one at my funeral, please.
a song that evokes the greatest summer of your life
The Staple Singers - Trippin' On Your Love
That was probaly in 1989 or 1990 when we spent the whole summer just pretty much high almost daily – taking acid during the week and ecstasy on the weekends. Everything seemed just so simple. It was dubbed the second summer of love by the media. And I went to the Southport weekender and ventured into the main hall for the very first time ever, where I witnessed that acid house scene first hand for the first time. And this was the record they kept playing all weekend in the soul room and on the festival radio station. I heard it about twenty times, every DJ must have been playing it. I think that was probably the last summer I can remember where we really had nice, hot summer weather from June to August. with no break.
your ultimate heartbreak song
Timi Yuro - It'll Never Be Over For Me
It's this 60's, kinda Northern Soul record, but not really uptempo. More of a record they'd play at the end of an all-nighter. It's just a record that really touches me. I think soul music anyway can either be uplifting or make you feel unhappy like this one. I can't put my finger on why but it's just the lyrics and the delivery. Still every single time I hear it, eventhough I know it for years, it brings a lump up to my throat. I was actually talking to my daughter the other day about how crap music is nowadays and how good a good song can be. And I was trying to tell her what that song is about and quote some of the lyrics and I was almost in tears just by telling her.
your party anthem
Chic - Everybody Dance
It's a record that I always have in my box. And it's a real «getting the chills» record. Whenever you're losing the dance floor or somebody asks for something that they recognize it's always the one I go for and it never seems to fail. Very handy record to have. I'm a big fan of Chic, big fan of Nile Rogers and Bernard Edwards. And I just like that record in particular of all above them as the one that I would say really nails it as far as disco goes.
first record you bought
The Specials - Gangsters
Probably it wasn't really the first one, because I was buying records all through my life and I can't really remember when I bought my first record. We used to go into department stores in Glasgow and Woolworth's and they'd have recods pinned up at the wall with that week's charts. But I don't remember what any of those were, because it didn't really have any significance, I guess. I remember seeing things like «Never Mind The Bullocks» and stuff like that, but I can't remember buying them. But the one record I do remember that I really, really wanted to buy after hearing it was «Gangsters». Everything about it, the label, the stamped sleeve made me specificially go to a record store and ask for it.
a song that reminds your friends of you
Sam Dees - Lonely For You Baby
I don't know of a song that reminds all my friends of me. This record though came up in a conversation I had with a friend the other day. And he mentioned this song and said: «Everytime I hear that I think of you». Because I used to be obsessed over it. It was quite an expensive record at one time and I bought it eventhough I hadn't much money. So it was something that I always wanted to have and it took me a long time to finally be able to afford a copy. I must have played it to death and must been around at that time.