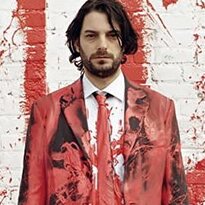 Kalabrese
has got the funk in his veins. For four years he set the pace for Swiss hip hop combo Sendak as their drummer, before he decided to change Zurich's nighlife forever and beyond. As one of the city's leading DJs and producers he is also a sought-after DJ and live performer all over the world.
web
«Hello Rumpelcircus» was released in 2007 on Stattmusik.
a song that reminds you of school
Righeira - Vamos A La Playa
your boozed up anthem
Tom Waits - Straight To The Top
Oder eigentlich alles von ihm.
a song guaranteed to make you feel depressed
Adrian Stern
Das lief immer im Radio als ich noch bei «Freitag» jobbte. Und da hab ich realisiert wie provinziell und arschkriecherisch die Schweizer Popszene ist.
record you were looking for the longest
Gemini - Swimmin' With Sharks
Eine Ex-Freundin von mir hat sie mir weggenommen und erst drei Jahre später hab ich sie wieder in einem Laden entdeckt. Inzwischen ist sie mir schon wieder abhanden gekommen.
a record you fell in love to
U2 - With Or Without You
Lief in Italien aufm Zeltplatz, als ich zum ersten Mal mit einer Holländerin tanzte.
first record you remember
The Doors
Mit dem Cover vom Starken Mann. Da war ich knapp fünf und wusste noch nicht genau wie die Musiker hiessen. Die Platte lag zu Hause bei Mamma rum.
the song to be played at your funeral
Pink Floyd - Wish You Were Here
a song that evokes the greatest summer of your life
Justus Köhncke - Timecode (Lexx Edit)
James Brown - Rapp Payback
«Timecode» in der Version von Lexx – mit den Vocals von «Walking On Sunshine». War letztes Jahr mein ständiger Begleiter. Dieses Jahr wird es James Brown mit «Rapp Payback» sein. Der Funk ist zurück.
your ultimate heartbreak song
Al Green - Let's Stay Together
best Kraftwerk song
Kraftwerk hab ich nie gehört.
first record you bought
Antonello Venditti
Italienischer Popbarde. Gekauft in Rom aufm Flohmarkt, da war ich sechs.
a song that reminds your friends of you
Kalabrese - Hühnerfest
a song you would use as a ring-tone
Harold Faltermeyer - Axel F
best video clip you ever saw
Peter Gabriel - Sledgehammer
Nicht mein erster, aber einer der besten und genialsten Songs.
a song you wish you'd written yourself
Keinen. Auch wenn ich Millionen damit verdient hätte...
perfect anthem for Zurich
Marshall Jefferson - Move Your Body (The House Music Anthem)