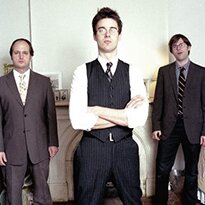 Oneida
is a rock band from Brooklyn, New York. Their influences include psychedelic rock, krautrock, and hard rock, but the overall structure and intent of their music cannot be easily traced to any of these styles, or the myriad other styles they have drawn upon in recordings.
«Absolute II» was released in June 2011 on Jagjaguwar.
Which song do you listen to when...
you relax on a beach?
No music on the beach. Just waves please.
you prepare a candle light dinner?
I haven't prepared a candle lit dinner.
you prepare for an important date?
AC/DC
you want to disturb your neighbours?
Not on my list of desires.
you drive a car late at night?
you fall asleep?
I hate having music on when I'm trying to get to sleep.
you go fishing?
Haven't fished since I was 8 years old.
you are love sick?
New Order
you make love?
I don't like a soundtrack to sex.
you paint your apartment?
No music for this. A friend and conversation.
you jump out of a plane with a parachute?
Never done it, never will.
you play a game of chess?
Haven't played chess in 10 years and I wouldn't listen to music if I did.
you have to spend a night in a spooky hotel?
The last time I was in a spooky hotel I didn't listen to music.
you sit in the subway?
I don't own a portable music device.
you wake up?
None. I don't listen to music in the morning.
Questions answered by: Kid Million