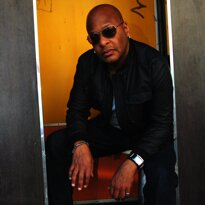 Alan Oldham
is an illustrator, techno DJ (T-1000) and producer originally from Detroit now living in Chicago. His drawings decorated the early releases of Derrick May's label Transmat and later he created the iconic look for dutch Djax-Up-Beats. He played with Underground Resistance, had his own radio-show («Fast Forward» on WDET) and released numerous records on his own labels Pure Sonik and Generator. Oldham draws the indie-comics «Johnny Gambit» and «Orietta St. Cloud».
The album «Johnny Gambit 01: The Prodigal Son. Original Soundtrack» was released 2009 on Pure Sonik Records.
Comics that inspired me (in no particular order)
No. 1
Jack Kirby comics from the '60s and '70s
Kirby was considered old-hat and somewhat corny when I was growing up, particularly his return to Marvel after creating the New Gods universe for DC. But as with most things, you develop an appreciation as you get older. His pencilling was so powerful that if he was still alive and working, he wouldn't need an inker, just render the stuff in Photoshop or Illustrator. There is a magazine called «The Jack Kirby Collector» where you can see his uninked pencils. Genius!
No. 2
«Mister X»
«Mister X» was the first comic I ever saw that looked like a magazine or an album cover. It had forward typography and page design as well as drawings in it. This was way before Pagemaker or any graphics programs were out there. The story and art were an influence too; my «Johnny Gambit» stuff stole heavily from «Mister X» to put it mildly.
No. 3
«American Flagg»
One of the baddest comics ever produced. Sex, violence, graphics and hand typography, alloverlaid on top of each other. I liked Howard Chaykin's stuff before «Flagg», but this was what put him over the top. He went on to do «Black Kiss», «Blackhawk» and «The Shadow», among other things. He still does stuff, but that was his best period. He's abig influence. I met Chaykin years ago at a comic convention and he liked my artwork. Hewrote the foreward for my «Sexy Adventures of Orietta St. Cloud» comic.
No. 4
«Strange Days»
Obscure British New Wave sci-fi comic from the '80s that had nothing to do with superheroes. Looked like they were on acid when they did it. Loud, psychedelic covers.
No. 5
Anything by Ashley Wood
Ashley started off doing commercial stuff like «Spawn» but then went his own way with weird stuff like «Popbot» and now «World War Robot». He was the first artist where I couldn't tell how he did his artwork. It was a melding of oils, pen and ink, manga screen tones, Photoshop effects etc. He doesn't do many comics anymore because he's running a toy company based on his designs/characters.
No. 6
Anything by Paul Pope
Pope's stuff is like Ashley's because it's so FAST. It looks sketchy and unfinished yet it holds together in the end and you wonder how they pull it off. Plus they can knock out zillions of pages. My shit is all planned out and deliberate in contrast and it takes me forever to do a page (but then again I make music, DJ out, and do commissions, too). Pope is famous for the graphic novels «100%», «THB», «Heavy Liquid» and «Batman Year 100».
No. 7
«Love and Rockets»
Kinda the samo samo now, but revolutionary when it first came out. Some say the band took their name from this comic. The Hernandez Brothers were sick. Crazy New Wave stories, hotchicks, big titties, robots, slammin' black and white artwork. Nobody had ever heard of these cats, they came out of nowhere. They used to have sci-fi and superhero elements in their stuff, now it's all about the barrio. Boring.
No. 8
Anything by Damion Scott aka MoshZRO
This young brother used to draw «Robin» for DC. He is completely new school, hip-hop generation. His stuff is like wild-style graf and manga but shoved into the Marvel/DC storytelling machine (i.e. it's readable unlike a lot of graf-type stuff). I met him at Comicon in San Diego before he took his DC money and moved to Tokyo. I wanted to hire him to pencil a Johnny Gambit cover for me to ink, but the brother cost too much!!!!
No. 9
The Losers
Now a major motion picture. The original artist, Jock, was the sh**. He was like a new-school, more graphic Chaykin. Really cool advertising and movie storyboard elements in his work. They remade his first issue «Losers» cover as the movie poster with the actors posing like the characters. One of the last cats I followed in comics (I quit buying new comics a few years ago).
No. 10
Not really influences, but I like:
Jim Lee, Joe Quesada (when he used to draw), John Cassaday («Planetary»), Bryan Hitch(«The Authority», «The Ultimates»).