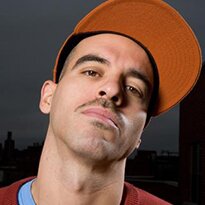 Bobbito Garcia
is what you call an institution. He is the alderman of New York underground hiphop. Having hosted the legendary radio show «The Stretch Armstrong and Bobbito Show» on WKCR, running his own label Fondle Em, DJing as DJ Cucumberslice and was a member of the Rock Steady Crew the Puerto Rican is a jack-of-all-trades. He even wrote a book about collecting sneakers and publishes the basketball magazine «Bounce».
Buy on iTunes
Which song do you listen to when...
you take a bubble bath?
Tiny Tim - Tiptoe Through The Tulips
you relax on a beach?
Jorge Ben - Comanche
you go to a club?
Public Enemy - Bring The Noise
you cook?
Mongo Santamaria - Tenderly
you prepare for an important date?
Donnie - Do You Know
you are in a depressive mood?
Stevie Wonder - Talking Book (LP)
you drive a car late at night?
I don't drive, I only ride my bike and don't listen to music when I do.
you fall asleep?
I can't hear music when I'm going to sleep, it'll keep me up cuz I'd want to pay attention to it.
you make love?
D'Angelo - Untitled (How Does It Feel)
you sit in a plane?
Headphones sound shitty on planes, too noisy and your ears pop.
you read a book?
I can't hear music when I read. If I do, then I won't pay attention to the book. Music is not background for me, it's primary focus.
you wake up?
Gil Scott-Heron & Brian Jackson - I Think I'll Call It Morning From Now On