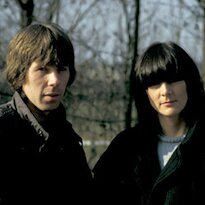 Chris & Cosey
are, alongside Neil Megson and Peter Christopherson, the founders of legendary experimental group Throbbing Gristle. At the end of the 70s they created a new sound aesthetic on their own imprint «Industrial» that gave name for a whole new genre. After TG split, Chris Carter and Cosey Fanni Tutti explored several new musical territories. In the last few years the who's who of electronical music and topnotch DJs remixed and reworked the heritage of Throbbing Gristle.
«Feral Vapours of the Silver Ether» was released in 2007 as Carter Tutti.
Buy on iTunes
a song that reminds you of school
Procol Harum - A Whiter Shade Of Pale
Chris: This track always brings back fond memories of school trips, discos and 'fun' behind the bike sheds.
The Monkees - I'm A Believer
Cosey: Whenever I hear this I can picture myself with my school friends laughing and getting up to all kinds of things. My school days were wonderfully happy.
a song guaranteed to make you feel depressed
Cosey: ANY Country and Western music. I hate it, I call it «slit your wrists music».
a record you fell in love to
ABBA - Dancing Queen
Chris: One of my all time favourite ABBA tracks. This was playing everywhere when I fell in love with Cosey.
Love - Andmoreagain
Cosey: My very first love in 1969.
first record you remember
Perry Como - Catch A Fallen Star
Cosey: My mother used to play it and sing along to it. Later when I was about 5 years old my friend and I did a public performance of it complete with dance routine to our gang of friends.
The Laughing Policeman
Chris: This record haunted me continually through my childhood in the 1950s. Funny in a weirdly fascinating way (to kids anyway) but with my adult ears it sounds a bit creepy now.
the song to be played at your funeral
Chris & Cosey - October Love Song
Cosey: The lyrics are about the unfolding of our love affair and the overwhelming feelings we had for one another.
John Barry - Walkabout
Chris: JB at his most melodic and melancholy, I never tire of hearing this.
a song that evokes the greatest summer of your life
ABBA - Dancing Queen
Cosey: The year Chris and I became lovers. It was the hottest summer on record and whenever I hear this song a smile breaks across my face, my stomach flutters and I'm right back there in the same emotional state. I am unbelievably happy.
Simon Dupree & The Big Sound - Kites
Chris: «Dancing Queen» for the same reason as Cosey. Also «Kites» by Simon Dupree & The Big Sound. The summer I left school this was on the radio such a lot and brings back some very happy memories.
your ultimate heartbreak song
Cosey: I don't have one in particular. When your heart is broken all songs seem to represent what you have lost.
Simon & Garfunkel - Bridge Over Troubled Water
Chris: I played this album a lot (not a good idea) when my first serious relationship broke up. As a result I find it a bit depressing to listen to nowadays.
best Kraftwerk song
Kraftwerk - The Robots
Kraftwerk - Radioactivity
a song you wish you'd written yourself
Future Bible Heroes - Losing Your Affection
Cosey: It has the most beautiful melody and lyrics and it's in my key! It just resonates and touches all the right places inside me.
Pink Floyd - Set The Controls For The Heart Of The Sun
Chris: Still a classic and one of my all time favourite Floyd tracks. And I'd be a millionaire from all those royalties if I'd written it.
Questions answered by: Chris Carter and Cosey Fani Tutti