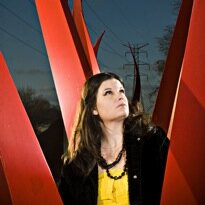 Cortney Tidwell
is an American singer-songwriter. She was born 1972 in Nashville, Tennessee to country singer Connie Eaton and producer and A & R, Cliff Williamson. Tidwell released three albums so far and works sometimes with Kurt Wagner of Lambchop (as KORT).
«Palace EP» was released on Simple Records in 2010.
Top 10 alltime favorite LPs
No. 1
The Rollings Stones - Exile On Main Street
It's the best Stones album ever.
No. 2
Joni Mitchell - For The Roses
No. 3
The Who - Live At Leeds
Best Rock 'n Roll album ever, I think.
No. 4
Elliott Smith - From A Basement On The Hill
No. 5
Depeche Mode - Black Celebration
The first New Wave album I ever bought. Or can't you call Depeche Mode New Wave?
No. 6
The Cure - The Head On The Door
No. 7
The Smiths - The Queen Is Dead
No. 8
Johnny Cash - Live At Folsom Prison
No. 9
John Coltrane - A Love Supreme
As the title says... Just supremely beautiful...
No. 10
Sebadoh - Harmacy
This rocks so beautifully.
5 favorite bands you know personally
Sebadoh / Lambchop / Silver Jews / Spiritual Family Reunion / Trauma Team
5 favorite books
Shel Silverstein: «Where The Sidewalk Ends» / William Shakespeare: «Romeo & Juliet» / Gladys Aylward: «Little Woman» / Emily Bronte: «Wuthering Heights» / Anne-Marie MacDonald: «The Way The Crow Flies»
5 favorite cartoon characters
Popeye / Duffy Duck / Spongebob / the Smurfs / Nancy
5 favorite cities
Berlin / Paris / New Orleans / Athens, Georgia / Houston, Texas
5 favorite human inventions
the bicycle / the radio / the record player / the guitar / electricity
5 favorite instruments
Cello / Drums / Classical Guitar / Clarinet / Piano
5 favorite magazines
Rolling Stone / Venus / Popular Mechanics / National Geographic / Uncut
5 favorite personal belongings
my photo albums / my record collection / my doggie / my apple powerbook / my guitar
5 favorite personal tragedies
there are too many and they are too personal.
5 favorite personal victories
children, although I only have two.