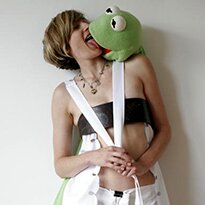 Dani Siciliano
is the wife of musical genius Matthew Herbert. It was him who met her at one of her DJ gigs in San Francisco in the mid-90's and took her along to England. Subsquently together they created some of the most interesting house music of the last century. On her solo albums Siciliano shows how fruitful this liaison still is, excitingly fresh.
«Slappers» was released in 2006 on K7!
a song that reminds you of school
Cyndi Lauper - Girls Just Wanna Have Fun
best Beatles song
The Beatles - Blackbird
Okay, it's not maybe the best song but what was really nice was when I was at Glastonbury a couple of years ago when Paul McCartney played. Which was really quite special, cuz the Beatles never played Glastonbury. He started off playing with the band and then all off a sudden he just winded it down to just him doing solo accoustic guitar. It was so honest and endearing. Then he played «Blackbird» – the one song almost every person when they pick up a guitar start learning to play. And it was really nice to watch him do it on an accoustic guitar and sing it. Really lovely! And it's such a pretty song as well. So I choose that one.
best concert you ever attended
U2
I've been to quite a few. But I really enjoyed the Joshua Tree tour by U2, which I saw in Washington, D.C. It is because it was a stadium concert, but it was just well done. And everything was so on point: Like the sound, where they were out in their careers, what age I was out – I was very young and everything was just quite magical. And it sounded incredible, which was a MASSIVE stadium sound! I guess they were at that point as well where they weren't too abashed about playing old things. It didn't feel like a jukebox.
your boozed up anthem
Missy Elliott
Maybe...hmmm... I don't know. Actually I don't like to listen to music when I'm drunk. But then it'd probably be some Missy Elliott tune.
record you were looking for the longest
The Junkyard Band - Sardines
I was replacing a record actually. And that was «Sardines». And on the flipside: «The Word». When I lived in San Francsico there was some kind of a Golden Area in the early 90s for record buying through rather sad circumstances. From people who were dying of AIDS related diseases one of the fall out actions about it was that their families or their partners were donating massive collections of records to charity shops. And in particuar there were two thrift stores that had – through these awful circumstances – those AMAZING collections. You could completely feel the personality of the owner when you were in somebody's collection.
a record you fell in love to
Arto Lindsay - Mundo Civilizado
first record you remember
Pyotr Ilyich Tchaikovsky - The Ballet From Swan Lake
the song to be played at your funeral
Al Green - Simply Beautiful
I don't know this! And I've been asked this before and I have no idea. In fact I've been thinking about this question last night because I knew I'll be asked this again and I thought I need to fucking come up with an answer for this. Maybe I'll just say «Simply Beautiful» for now. I'll just keep using that one.
a song that evokes the greatest summer of your life
I don't know. In England we don't really have big summers. Sometimes I think it's winter! Or at least spring or fall. No, well, I have to think about that one...
your ultimate heartbreak song
Al Green - Simply Beautiful
I try not to let music groom me down even further. It's better to make it a healing element. Maybe I'll say: «Simply Beautiful». That works for the song that makes me totally happy as well.
perfect anthem for Kent
In The Bleak Mid Winter
It's like this song from the 1800s, it's really lovely, it's really dark and it's a christmas carrol - which I never quite understood, cause it's quite sardonic, its' quite sad. Anyhow, I think it's very fitting to Kent.
your liberation anthem
Gwen McCrae - All This Love That I'm Giving
first record you bought
The Go-Go's - Beauty & The Beat
a song that reminds your friends of you
I gotta ask my friend Olivia who is just visting me from New York. She says something disco for sure. A really, really good disco song! Maybe something on West End Records.
perfect anthem for San Francisco
Chaka Khan - I'm Every Woman
Haha! That's just me being funny – but it's kinda true.
a song you wish you'd written yourself
Al Green - Simply Beautiful