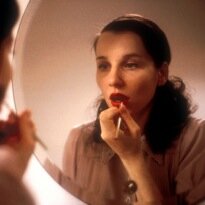 Meret Becker
is a German actress (Steven Spielberg's Munich) and a singer. Next to her solo recordings she also collaborated with Einstuerzende Neubauten and Nina Hagen.
«Pipermint - Das Leben, Möglicherweise OST» was released on Claire Werke in 2005.
a song that reminds you of school
Richard Sanderson - Dreams Are My Reality
Aus dem Film «La Boume – die Fete». Das ist der einzige Song, der mich wirklich an Schule erinnert. Musik fand sonst woanders statt.
perfect anthem for Berlin
Eisler/Brecht - Anmut sparet nicht noch Mühe
Für Deutschland jedenfalls: «Anmut sparet nicht noch Mühe» von Eisler/Brecht.
a song guaranteed to make you feel depressed
Townes Van Zandt - Waiting Around To Die
a record you fell in love to
Culture Club - Do You Really Want To Hurt Me
first record you remember
The Beatles - Help!
the song to be played at your funeral
Viel Musik und Walter Schmiedinger soll die Grabrede halten. Ich hör ihm so gern zu!
a song that evokes the greatest summer of your life
«In The Mood For Love»
Der Soundtrack dazu. Wir waren auf Lastovo in Kroatien.
your ultimate heartbreak song
Soul Coughing - Janine
Marvin Gaye - Sexual Healing
a song that reminds your friends of you
The Commodores - Easy
best video clip you ever saw
Michael Jackson - Billie Jean