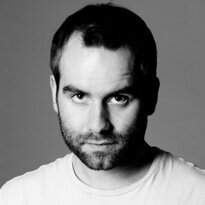 Ruede Hagelstein
is a producer and DJ from Berlin who has been shaping the city's night life since 2000. Eventhough he is one of the pioneers of the minimalistic techno sound he was always exploring beyond its boundaries. His latest release sees him even go folky and together with The Noblettes recorded a proper pop album.
Ruede Hagelstein & The Noblettes' «Soft Pack» was released in November 2011 on Souvenir Music.
Which song do you listen to when...
you come home from the club?
Junip - To The Grain
Seele streicheln, sanfte Landung.
you go to a club?
Caribou - Leave House
you run naked through a cornfield?
Laibach - Geburt einer Nation
Das werdet ihr nie erleben.
you destroy a hotel room?
Korn - Blind
Dazu habe ich schon einige Möbelstücke deformiert.
you want to disturb your neighbours?
Scooter - How Much Is The Fish
you drive a car late at night?
Wolfgang Amadeus Mozart - Requiem / Dies Irae
Klassik finde ich zum Autofahren generell gut. «Requiem» passt zur Nacht.
you feel lonely?
Grandaddy - Miner At The Dial
Habe ich oft alleine gehört auf Reisen. Das ganze Album ist ein treuer Begleiter.
you are love sick?
Björk - All Is Full Of Love
you make love?
Theophilus London - Hey Wonderful
Da werd sogar ich feucht.
you meet your parents?
Jimi Hendrix - Purple Haze
Hat mein Papa mir oft als Kind vorgespielt. Heute sage ich immer: «Mensch Papa, der Hendrix hat doch auch gekifft!».
you sit in a plane?
Editors - Papillon
Soundtrack zum Abheben. Hör ich zum Start natürlich heimlich und zünd mir aufm Klo ne Zigarette an.
you have to spend a night in a spooky hotel?
Sisters Of Mercy - Marian
Habe ich in meiner Pubertät schon auf dem Friedhof getestet. Geht gut.
you sit in the subway?
Necro - I Need Drugs
Schaue der Realität in die Augen!
you wake up?
Kate Bush - Wuthering Heights
So leicht und beschwingt wie Kate hüpfe ich dann wie eine junge Gazelle durch meine Wohnung.
5 favorite human inventions
Schlummertaste / Gaspedal / Vibrationsalarm / Internet / Sonnenbrille
5 favorite instruments
Ableton Live / Piano / Rhodes / Gitarre / Saxophon
5 favorite magazines
Hate Magazin / Groove / Frankfurter Allgemeine / Spiegel / Blinker
5 favorite movies
«The Odd Couple» von Gene Saks / «Le fabuleux destin d'Amélie Poulain» von Jean-Pierre Jeunet / «Annie Hall» von Woody Allen / «The Straight Story» von David Lynch / «Abbuzze!» von Badesalz
5 favorite personal belongings
Meine Angel / Mein Fahrrad / Mein USB-Stick / Mein Studiorechner / Meine rosa-farbene «Rüde»-Basecap