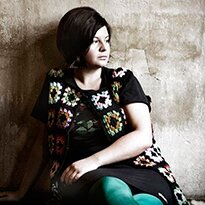 Miss Platnum
reinvented herself after her debut flopped disasterously in 2005. For her sophomore outning the Romanian-German singer mixed some gypsy flavor to her run-of-the-mill RnB and invited Peter Fox to the studio. This time it worked out better and the Berlin-based chanteuse has been storming up the charts ever since.
«The Sweetest Hangover» was released in September 2009 on Sony.
Which song do you listen to when...
you relax on a beach?
Lewis Taylor - You Make Me Wanna
you run from the cops?
Miss Platnum - Mercedes Benz
you run naked through a cornfield?
you want to disturb your neighbours?
Die nerven mich immer mit ihrem Reggae-Sound. Daher würd ich laut House hören.
you drive a car late at night?
Sam Sparro
you remember the good old days?
Whitney Houston
Die Platte mit dem Badeanzug Cover.
you had enough of this world?
Aretha Franklin - Somewhere Over The Rainbow
you want to get inspired?
Aretha Franklin - (You Make Me Feel Like) A Natural Woman
you make love?
Jimi Hendrix - Foxy Lady
you pretend to be married?
Stevie Wonder - Ribbon In The Sky
you walk the cat walk?
Amerie - 1 Thing
you rob a bank?
Miss Platnum - I'm Broke
you smuggle diamonds?
Shirley Bassey - Diamonds Are Forever