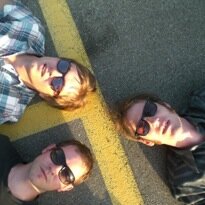 Lo Fat Orchestra
are Christoph «Chrisi» Schmid, Daniel Zimmermann and Thorsten «Stan» Strohmeier. The threesome founded the band in 2005 in Schaffhausen with the credo pop music without boundaries.
a song that reminds you of school
Die Ärzte - Nach Uns Die Sintflut
Wirklich jeder in der sechsten Klasse hatte die Scheibe von irgend einem grossen Bruder aus der neunten Klasse.
best Beatles song
The Beatles - Getting Better
your boozed up anthem
Keine Ahnung, wie wärs mit «Durstige Männer» von Dimple Minds?
a song guaranteed to make you feel depressed
Der aktuelle Top Hit aus den Grossraumdiscos.
record you were looking for the longest
Absolut keine Ahnung. Wahrscheinlich irgendwas von den Pixies oder Dinosaur Jr.
a record you fell in love to
The Lemonheads - It's A Shame About Ray
first record you remember
Hui Buh - Das Schlossgespenst
Hörte ich immer, wenn ich oben bei Oma war.
the song to be played at your funeral
Kommando Sonnenmilch - Es gibt keinen Weihnachtsmann
a song that evokes the greatest summer of your life
Ich kann mich nicht zwischen «Bit Part» und «Inbetween Days» entscheiden, sorry.
your ultimate heartbreak song
Olli Schulz - Nimm mein Mixtape Babe
Hm, vielleicht «Nimm mein Mixtape Babe» von Olli Schulz. «Und dann wir sehen uns wieder/wir hören die Mixtape Lieder/Du singst wirklich alles mit/Hit für Hit..»
first record you bought
Pet Shop Boys - Suburbia
Könnte aber auch was von a-ha gewesen sein, shit.
a song that reminds your friends of you
Das werde ich sie bei Gelegenheit mal fragen.
a song you would use as a ring-tone
Natürlich den aktuellen Top Hit aus den Grossraumdiscos!!
best video clip you ever saw
Duran Duran - Wild Boys
Das hat mit 6 Jahren äusserst geflasht!
a song you wish you'd written yourself
Wham! - Last Christmas
Von finanzieller Seite her gesehen mit Sicherheit «Last Christmas».
Questions answered by: Dan Zimmermann