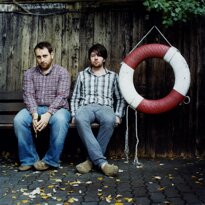 Junior Boys
are Jeremy Greenspan and matt Didemus from Hamilton, Ontario. For more than a decade the twosome has been releasing electro-pop music at it's absolutely finest. They are also well known for their remixes, f.e. for Caribou and Wild Beasts.
«It's All True» has been released in June 2011 on Domino.
a song that reminds you of school
William Blake - Jerusalem
Hmm probably «Jerusalem», the hymn written by William Blake that we used to sing in the mornings. I always thought it was a bizarre song. Apparently Blake wrote about these bizarre persistent myths that Jesus travelled to England as a young man, which is obviously completely ridiculous.
best Beatles song
The Beatles - She's Leaving Home
best concert you ever attended
Neil Young & Crazy Horse
The Boredoms
Either Neil Young & Crazy Horse or The Boredoms.
your boozed up anthem
I don't really drink. I kinda hate booze, and sorta think that alcohol has ruined dance music.
a song guaranteed to make you feel depressed
Bob James - Angela (Theme from «Taxi»)
a song everyone should hear
Mantler - Lately I'm Sad
a record you fell in love to
Strangely I don't really associate music with my relationships.
first record you remember
a-ha - Take On Me
The first music that I remember is sorta show tune music like «Show Boat» or «West Side Story». I've always loved that stuff. But the first pop song I remember knowing was probably «Take On Me», I remember having it on a cassette along with children's songs, and loving it.
the song to be played at your funeral
Benny Hill Chase Music
a song that evokes the greatest summer of your life
Steely Dan - Can't Buy A Thrill
I doubt I had a greatest summer of my life. But «Can't Buy A Thrill» always makes me think of being a kid at summercamp. I remember having that on my walkman, and they are a band that I have loved consistently since being a kid until now.
your guilty pleasure song
your ultimate heartbreak song
Robert Wyatt - Rock Bottom
A lot of the songs on «Rock Bottom» are quite devestating.
your party anthem
First Choice - Let No Man Put Asunder (Ron Hardy Edit)
The Ron Hardy edit of «Let No Man Put Asunder» is a fallback that always works.
Matthew Wilder - Break My Stride
first record you bought
Rush - 2112
a song that reminds your friends of you
King Crimson
In my mind I would like to say something super cool like «Go Bang» or «From Here To Eternity» or something like that. But in reality it's probably some terrible King Crimson track.
your sunday morning song
Ave Maria
a song you wish you'd written yourself
I've never written a song that made me much money. I wish I could write one that did.
Questions answered by: Jeremy Greenspan