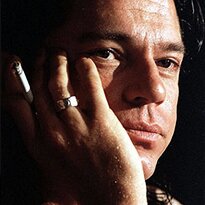 Andy Gill
is the leader of Gang of Four. This outfit from Leeds are one of the most influential bands from the punkfunk era of the early 80s. After a ten year break the band reformed and are currently touring again. Gill is also a renowed producer for acts like The Futureheads and Boss Hog.
web
«Content» by Gang of Four was released in January 2011 on Neu Grenland.
a song that reminds you of school
The Rolling Stones - (I Can't Get No) Satisfaction
I used to sing it to myself as I walked to school and then again as I walked back.
your boozed up anthem
The White Stripes - Seven Nation Army
best David Bowie song
David Bowie - Fame
On the «Young Americans» album.
a song guaranteed to make you feel depressed
Paul Weller
a record you fell in love to
I-Roy - The First Cut Is The Deepest
Muddy Waters - Manish Boy
first record you remember
a Davey Crockett spoken word LP
the song to be played at your funeral
The Velvet Underground - All Tomorrows Parties
a song that evokes the greatest summer of your life
Black Grape - It's Great When You're Straight... Yeah
your ultimate heartbreak song
Dionne Warwick - Walk On By
first record you bought
The Beatles - She Loves You
a song you would use as a ring-tone
a song you wish you'd written yourself
The Beatles - Yesterday
Then I'd be extremely rich.