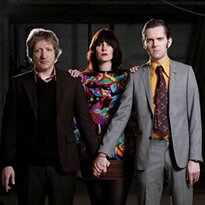 The Shortwave Set
is a musical kaleidoscope that produces instantly hummable tunes. The idiosyncratic electronica is enhanced by ukuleles, cithars and far eastern percussion. Their second album was produced by self-proclaimed admirer Dangermouse and features John Cale on viola and string arrangements by Van Dyke Parks.
web
«Replica Sun Machine» was released on Wall Of Sound in May 2008.
a song that reminds you of school
Madonna - Borderline
There was this girl who used to bust all the moves from the video in the playground. She had the same hair too, and as I remember had started to «develop» a bit earlier than the other girls too. We all certainly used to stop kicking the tennis ball around when she started jumping up and down.
best Beatles song
The Beatles - Happiness Is A Warm Gun
best concert you ever attended
The Stone Roses
At Alexandra Palace in 1989. I woz proper pillin', mate.
a song guaranteed to make you feel depressed
Dirty Pretty Things - Deadwood
Anything by Razorlight, Dirty Pretty Things, Athlete or Keane.
record you were looking for the longest
The Beta Band - Champion Versions EP
I was hunting for «Champion Versions», the first Beta Band EP for ages, as it was really difficult to find when it came out. I ended up finding it in the Notting Hill tape and record exchange.
a record you fell in love to
Madonna - Borderline
first record you remember
Andrew Gold - Lonely Boy
Strangely I remember being fascinated by the lyrics. Odd really, given I couldnt read, write or barely speak at the time.
the song to be played at your funeral
Elton John - Candle In The Wind
The 1997 «Diana»-version, naturally.
a song that evokes the greatest summer of your life
I like to think this is a song that hasn't been released yet.
your ultimate heartbreak song
Razorlight - In The Morning
A little piece of me dies every time it comes on the radio.
your liberation anthem
Beastie Boys - Fight For Your Right
perfect anthem for London
The Spice Girls - Wannabe
your party anthem
ABBA - Dancing Queen
It is probably the most euphoric 4 minutes of music ever committed to tape I reckon. After a couple of lagers I do find myself strangely compelled to waggle me toes a bit. Not pretty.
first record you bought
Sex Pistols - God Save The Queen
Probably something by the Smurfs, sorry, scrap that... I meant to say, «God Save The Queen». Yeah, that's better.
a song that reminds your friends of you
The Shortwave Set - Is It Any Wonder
a song you wish you'd written yourself
David Bowie - Life On Mars
Questions answered by: Andy Pettitt (vocals, guitar)