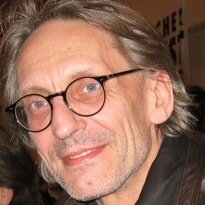 Manuel Goettsching
was a founding member of legendary Krautrock band Ash Ra Temple. His solo album E2-E4 – released in 1984 – remains to this day a milestone in electronic music. When Goettsching re-released the title track in 1989 together with two Italian DJs – under the moniker Sueno Latino – it blasted to the top of the UK dance charts.
«Live at Mt. Fuji» was released in 2007.
5 favorite bands you know personally
mein erstes Transistor-Radio, das ich mir ans Fahrrad gehängt habe und mit dem ich auf dem Schulweg AFN gehört habe, z.B. «Pretty Woman» von Roy Orbison und «Memphis Tenessee» / die vererbte Musiktruhe von meiner Grossmutter, inklusive ihrer alten Singles (z.B. «Weisser Holunder» von Gitta Lind) / mein erstes Tonbandgerät Marke «Senator», das ich zu meiner Konfirmation bekam und mit dem ich mich immer habe wecken lassen, meistens mit den Rolling Stones / mein Ghettoblaster Marantz Superscope, mit dem ich viel Reggae und Dub im BFBS gehört habe, ein Rhythmus, der sich ausgezeichnet zum Fensterputzen eignet / mein Aiwa Walkman, mit dem ich am 13. Dezember 1981 die Aufnahme von «E2-E4» auf dem Flug nach Hamburg getestet habe (siehe dazu auch die andere Fragenliste «Was hörst Du am liebsten im Flugzeug»). Im Ernst, es sind sicherlich mehr als 5 Musiker, die ich kenne, mag und schätze, ausgesprochene Lieblinge habe ich nun wirklich nicht und eine Auswahl wäre merkwürdig. Auf jeden Fall dabei wären - in memoriam - Florian Fricke, Michael Karoli und Nico.
5 favorite books
Jan Potocki - Die Handschrift von Saragossa / Cabrera Infante - Drei traurige Tiger / alle Krimis von Leo Malet mit Nestor Burma / Michail Bulgakow - Der Meister und Margarita / Albrecht Fölsing - Albert Einstein, eine Biographie
5 favorite cities
Honkong / Beirut / Quebec / Vancouver / Caracas. Muss ich überall noch hin, soll ja sehr schön sein...
5 favorite clothes
mein Smoking und meine Schlafanzüge.
5 favorite human inventions
Anrufbeantworter / Voltmeter / meine Waschmaschine Marke Bosch, läuft seit 27 Jahren mit einer einzigen Reparatur für DM 3,47 (inkl. Mehrwertsteuer) / Rayon (ein äusserst angenehm verträglicher Kunststoff für Kleider, Blusen, Hemden) / Weihnachtsbaumkerzenlöscher
5 favorite magazines
Ich lese nur die japanische McDonalds Fachzeitschrift.
5 favorite personal belongings
Um es mit dem Text von «Woman» (ein alter Song von der Band Free, ca. 1969) zu sagen: «...I give you everything but my car and my guitar.»
5 favorite personal tragedies
dass ich immer noch keinen Pilotenschein habe / dass ich immer noch nicht richtig Tennis spielen kann / dass ich zu meinen Lebzeiten wohl nicht mehr auf den Mond oder zum Mars reisen werde / zwei Konzerte, die ich als Teenager (ca. mit 17) verpasst habe: John Mayall's Bluesbrakers in der Berliner Philharmonie, mit Mick Taylor an der Gitarre, als sie das Programm von der damals gerade erschienen LP «Blues from Laurel Canyon» spielten, und etwa zur gleichen Zeit ein Konzert von Fleetwood Mac (weiss nicht mehr wo) in der Urbesetzung mit u.a. Peter Green an der Gitarre / dass ich als Kind nicht mit einem Freund auf den Teufelsberg fahren durfte (Berlins künstlicher Berg, dort wurden die ganzen Trümmer aus dem zerstörten Nachkriegs-Berlin abgeladen), weil meine Mutter das für zu gefährlich hielt.
5 favorite records
Elvis Presley - Snowbird
Jimi Hendrix - And The Wind Cries Mary
Rocco Granata - Marina, Marina, Marina
Julee Cruise - Summer Kisses, Winter Tears
Backstreet Boys - As Long As You Love Me
5 favorite things that make you sexy
mein Smoking und meine Schlafanzüge.
5 favorite personal victories
mein erstes selbstgebautes Floss / mein erstes Auto, der legendäre VW-Bus, den ich von Conny Schnitzler gekauft habe / meine erste Erfindung: eine Ofenrohrnietmaschine / der 5. Platz (von 7 Teilnehmern!) beim Segelflugmodell-Wettbewerb «Der Kleine Uhu»im Alter von 12 Jahren / meine eigenhändig restaurierte Höfner E-Gitarre, mit der ich die erste Ash Ra Tempel-LP aufgenommen habe.
5 favorite ways to leave your lover
ständig alte Ashra Tempel-Platten vorspielen, wenn das nicht hilft (manche mögen das ja) die Serie der «Cosmic Jokers»-Sessions und zur Krönung die seltene Promotion-Ausgabe «Take Your Headphones». Wenn das auch nichts hilft, dann muss es wohl wahre Liebe sein.