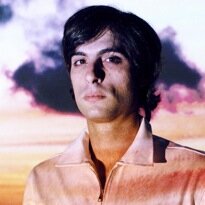 Turzi
is the band project by French producer and composer Romain Turzi. He started to release music in 2006 on Air's Record Makers imprint. Ever since he is regarded as one of the leading forces in French psyched electronica and the new edition of Krautrock. He also has a solo side-project called T.E.E. (Turzi Electronique Expérience).
a song that reminds you of school
Noir Désir
This is the typical French teenage rebel music. All the guys with Doc Martens were listenng to this. I still play their tunes when I DJ and want to get some sort of hiphop feeling with a punk attitude across.
best concert you ever attended
Primal Scream
On their recent «Screamadelica» tour. Probably not the best concert I ever been to. But the last real good one.
a record you fell in love to
Eric Serra - Le Grand Bleu
I wanted to say «MCMXCI» by Uncanny, but my wife just said she doesnt like it. It's really cheap. So I say the soundtrack to «Le Grande Bleu».
first record you remember
Led Zeppelin - III
Well I heard a lot of radio my parents were listening to. And tape cassettes. But this one was probably the first real record I heard.
the song to be played at your funeral
Ennio Morricone - L'attentat
It's a twenty minutes piece with a very strange beat and these harpischords in it. It kinda makes you sick when listening to it. I don't really mind because I will be already dead and there will only be beautiful women at my funeral.
a song that evokes the greatest summer of your life
Kraftwerk - Heimcomputer (1981 Live Version)
You have to look for the video of this on youtube. It's an amazing live performance, and the play with total concentration, still they are robots. It's a proof that you can play electronic music live.
your ultimate heartbreak song
Any kind of New Beat music. It shows how romantic electronic music can be. Because there are only machines, but they are operated by humans. I'm not a good musican or a engineer, I'm just the controller and can tell you how the music should sound I want to produce. Eventhough I work a lot with real instruments I think music that's made only with computers and machines is very human. It makes things so logic, since everything comes from harmonies.
best Kraftwerk song
Kraftwerk - Aerodynamik
Off the «Tour De France» soundtracks.
perfect anthem for Paris
Pierre Vassiliu - Film
It's the song on a B-Side of a typical french varieté record («Qui C'Est Celui-Là?»). There's only just one chord playing for over 5 minutes. And Vassiliu is telling the story of a guy alone in the streets of Paris during night time looking for a girl to spend the night. It's very romantic but then it's also depressing at the same time. It captures perfectly the vibe of Paris at night.
your party anthem
The Maxx - Techno Time
Right now I'm really on this Belgium New Beat act. They also got this track called «Cocaine» which is also really good. Both tracks are around 95 bpm, but they still make you want to dance.
first record you bought
Sonic Youth - Dirty
best soundtrack ever
Terry Riley - Le Secret De La Vie
Riley is one of the pioneering composres of minimalistic Classical music. This is from 1975 and has these sharp pieces of music perfectly fitted together. For me it's a masterpiece! Everyone should listen to this soundtrack once. Education!
your sunday morning song
ZZ Top - Cheap Sunglasses
a song you wish you'd written yourself
My Bloody Valentine - Sometimes
It has this big noise feedback on it. I wish I could do that once.
Questions answered by: Romain Turzi