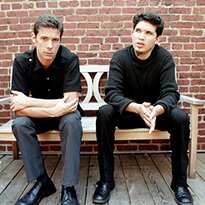 Thievery Corporation
are Rob Garza and Eric Hilton, who met at Eighteenth Street Lounge in Washington D.C. in May 1995. Their mutual admiration for the work of Antonio Carlos Jobim and the 60's bossa sound led to studio sessions and the launch of their own label Eighteenth Street Lounge. Their first LP «Sounds From The Thievery Hi-Fi» is considered to be a classic of the new electronic era and chillout/lounge genre.
«It Takes A Thief – Best Of» was released in 2010 on Eighteenth Street Lounge Music.
Which song do you listen to when...
you go to a club?
Karminski Expierence - Explorations
you prepare for an important date?
Snowboy - There's Nothing Like This
you drive a car late at night?
Ella Fitzgerald - Like Someone In Love
you make love?
I dont really care, it could even be the hammering of a jackhammer.
you sit in a plane?
Fila Brazillia - A Zed And To Ls
you sit in the subway?
Frank Sinatra - They Can't Take That Away From Me
you wake up?
Luis Bonfa - Song Of The Hills
Questions answered by: Rob Garza