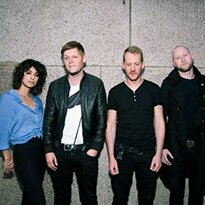 Pure Reason Revolution
are a British rock group formed at the University of Westminster in 2003. Their music is described as «Astral Folk» and «New Prog» and has received thumbs up by Rick Wakeman. Their debut single «Apprentice Of The Universe» was a twenty minute freak-out; pleasingly ambitious rather than crushingly pretentious.
5 favorite books
the Bible / Lord Of The Rings / 1984 (...sorry I'm not very well read! And I have a rubbish memory)
5 favorite drinks
Coke / Cherry Coke / Dr Pepper / Peach Iced Tea / Ribena
5 favorite human inventions
cars / houses / beds / music / E-Mail (in no particular order!)
5 favorite movies
Seven / Lord Of The Rings / Pulp Fiction / Spirited Away / LA Confidential
5 favorite places in the world
Home / London / Sydney / Cape Town / Colorado
5 favorite things that make you sexy
I dunno... aftershave, beers?
5 favorite things to be afraid of
spiders / heights / flying / hospitals / dentists
5 favorite TV shows
Alan Partridge / The Office / Hollyoaks (!) / The Premieship / Match of the Day
5 favorite ways to leave your lover
I Love You... that's a difficult one!
Questions answered by: Andrew Courtney