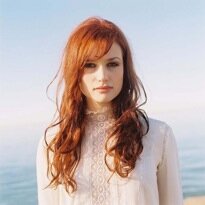 A Fine Frenzy
is the moniker used by Alison Sudol when she's up on stage playing her pop-minded songs, opening for The Stooges or Rufus Wainwright for instance. Her real name only occurs when she's writing books or appears on television (f.e. on «CSI: New York»). Her music is infectious, bubbly fun that got her already several times into the upper regions of the charts.
«Bomb In A Birdcage» was released by Virgin in 2009.
5 favorite animals
owls / deer / birds of all kinds / dogs / cats
5 favorite bands that hail from LA
Buddy / Sea Wolf / Cold War Kids / Gus Black / Dustin O'Halloran
5 favorite books
Jane Austen: «Pride And Prejudice» / Lewis Carroll: «Through The Looking Glass» / Richard Bach: «Jonathan Livingston Seagull» / J. D. Salinger: «The Catcher In The Rye» / Wil Huygen: «Gnomes»
5 favorite cartoon characters
Alice in Wonderland / Patrick from «Spongebob Squarepants» / The three blind mice in «Shrek» / Nibbles from «Tom & Jerry» / Shelly from «South Park»
5 favorite cities
Seattle / Los Angeles / New York / Omaha / Potsdam
5 favorite human inventions
music / cameras / dental floss / chocolate / the roboto dance
5 favorite instruments
piano / guitar / cello / synths that make lovely and odd sounds / accordion
5 favorite magazines
Dwell / Domino / Nylon / Vogue / Rolling Stone
5 favorite movies
«The Life Aquatic» by Wes Anderson / «Eternal Sunshine Of The Spotless Mind» by Michel Gondry with Jim Carrey and Kate Winslet / «Stranger Than Fiction» by Marc Forster / «Girl On A Motorcyle» by Jack Cardiff with Alain Delon and Marianne Faithful / «Me And You And Everyone We Know» by Miranda July
5 favorite personal tragedies
I think if a tragedy is indeed a tragedy, it's hard to pick a favorite... my favorite tragedy of all time is the one that never happened and never will. tragedies are terrible.
5 favorite places in LA
my bed / Silver Lake Reservoir / «Show», a great home decorating store in Los Feliz / «Pinkberry» a yogurt and fresh berries chain restaurant / The Grove (a shopping and entertainment complex built adjacent to the historic Farmers Market)
5 favorite records
Sigur Rós - Takk
Kings Of Convenience - Quiet Is The New Loud
Ray Lamontagne - Till The Sun Turns Black
Bright Eyes - I'm Wide Awake, It's Morning
5 favorite restaurants
Gingergrass, LA / The Blue Door, TX / Koi, NYC / Toast, LA / Piece, Chicago
5 favorite songs by The Beatles
The Beatles - I'm So Tired
The Beatles - While My Guitar Gently Weeps
The Beatles - Across The Universe
5 favorite TV shows
Grey's Anatomy / House / Sex And The City / The Mighty Boosh / I only have four.
5 favorite personal victories
making my first album and having it come out the way I'd hoped it would / learning how to play the piano / never having smoked a cigarette or taken drugs / having asthma and running anyway / remembering to put the trash bins on the street at 6:30 this morning before the garbage truck came! Hurrah!