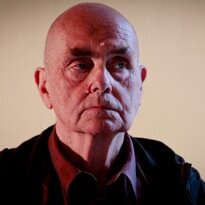 Hans-Joachim Roedelius
is a pioneer in the field of the exploitation of electrically generated tones, sounds and noises, and belongs to the founders of contemporary popular electronic music. He was also a founder member of various groups, namely Human Being, Kluster, Cluster, Harmonia, Tempus Transit and Lunzprojekt. He played on around 160 record productions either as a soloist or with band projects. Some 1600 musical works bear his name, plus a similar number of texts (poetry, prose etc.).
«Stunden» was released in October 2011 on Bureau B.
Which song do you listen to when...
you take a bubble bath?
In meinem langen Leben, glaube ich, bisher kein einziges Mal genommen!
you relax on a beach?
Wann kommt der Roedelius wohl mal in die Karibik?
you run naked through a cornfield?
you want to disturb your neighbours?
Ich will niemanden bewusst nerven.
you drive a car late at night?
Wenn überhaupt, klassische Musik, sonst aktuelle CDs und da, weil ich soviele selber mache, meist meine eigenen!
you drive into the country?
Da hör ich am liebsten den Hahn krähen, die Schwalben zwitschern, die Bäuerin beim Melken trällern, den Bauern rülpsen und die Ziegen meckern.
you walk through a dark forest?
Da gibt's genug zu Hören.
you are love sick?
Habe keinen, jedenfalls nicht momentan.
you make breakfast?
Das Geräusch des Wassererhitzers, die Orangenpresse, der Wauwau, der bellt, weil er was gehört hat, das ich nicht hören kann etc.
you make love?
Oh machte ich das doch öfter...
you paint your apartment?
Sollte ich wieder mal machen.
you sit in a plane?
Auf Langstrecken schau ich nur Glotze, aber nur, wenns gute Filme gibt, sonst penne ich.
you play a game of chess?
you wake up?
Den Song des Tagesanbruchs... «wann stehst Du denn nun auch endlich auf?», «mach' die Betten», «haste schon die Zähne geputzt», «koch doch bitte Tee», «geh dann gleich mit dem Hund raus», «Tschüss bis später, Bussi».
you work in the garden?
Nix mit Songs da, Garten macht selber Musik.
5 favorite bands you know personally
Can, Air, Qluster, Tempus Transit, Schneider & Roedelius
5 favorite human inventions
Eieruhr, Schnürsenkel, Klettverschluss, Zahnstocher, Taschenlampe.
5 favorite instruments
Klavier, Cello, Querflöte, Stimme, Nyckelharfe.
5 favorite magazines
Zeit, Geo, Süddeutsche, Falter, Wire.
5 favorite personal belongings
5 favorite personal tragedies
5 favorite records
Habe leider mindestens hundert.
5 favorite things that make you sexy
5 favorite personal victories
Etwa 2000 Musikstücke, etwa 1500 Texte/Poems, meine Hartnäckigkeit, meine Geduld, mein Stehvermögen.