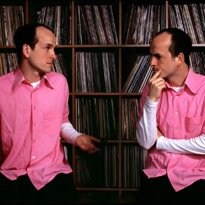 Matthew Herbert
is the name that comes to mind when Björk or Yoko Ono need a remix. «Personal Contract for the Composition of Music» is the manifesto the English remixer, produer and musician – wrote to have his own rule book for his musical output. And that's en elusive one, with all his remixes, production work (from Roisin Murphy to his wife Dani Siciliano), his film music scores and all of his endless releases (f.e. on his own label Accidental).
web
«One Pig» was released in October 2011 on Accidental.
If you were stranded on a deserted island you would...
take these three books along:
Kyril Bonfiglioni: «The Mortdecai Trilogy» by / Don DeLillo: «Underworld» / Stephen Zunes: «Tinderbox»
take these three CDs/records with you:
Keith Jarrett - The Melody At Night, With You
A pure distillation of both songwriting and performance.
Wham! - Last Christmas
I hate this song, but it would remind of the seasons.
Tom Waits - Rain Dogs
A soundtrack for me to lope round the island to, wearing a grass skirt I'd made and with coconuts on my head.
take these three DVDs along:
Norman McLaren collected works / «Secretary» / «Top Hat» by Mark Sanrich with Fred Astaire
take these three games along:
cards / football / go kart racing
start to learn these three things:
mandarin / medecine / ice skating
subscribe to these three newspapers / magazines:
The Guardian / Dazed and Confused / Desert Island Monthly
miss these three things the most about living in a city:
invite these three persons for a weekend:
Tom Waits / my mother / hunter
get these three pets:
a blue whale / a killer whale / a humpback whale
learn these three songs by heart:
«Happy Birthday»
Tom Waits - Step Right Up
take these three tools with you:
nail clippers / a pocket saw / my computer