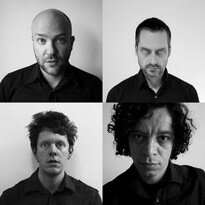 Skull Defekts
are Sweden's answer to the States' Sonic Youth and the Netherlands' The Ex and one of the centerpieces of the Swedish experimental rock scene. Since their creation in 2005, The Skull Defekts have taken their base of classic rock with massive guitar riffing, and infused it with their interest in circular composition, drone, tribal music, Indian ragas, '60s minimalism, and experimental music from numerous ages.
«Peer Amid» was released in February 2011 on Thrill Jockey.
If you were stranded on a deserted island you would...
take these three books along:
Nan Goldin: «The Devil's Playground» / Richard Coleman: «I Was Just Leaving: The Artwork of Richard Colman» / David Shrigley: «The Book of Shrigley». No literature, only stuff to look at.
take these three CDs/records with you:
Alan Vega - Saturn Strip
I love this album. Good to listen to when I get high on rotten coconuts.
Brian Eno - Discreet Music
Perfect to listen to in the dark trying to sleep.
Lee Perry
Any Lee Perry/The Upsetters box set. Well, I guess the deserted island is in a hot hot place. So I need the dub then, man! This seems like a wonderful deserted island as I can bring stuff to have a great time!
take these three DVDs along:
Kenneth Anger's complete works. Need to get some occult stuff in paradise! / Dario Argento's box set. Psychedelic horror movies are never wrong. / a DVD including nudity. Well, if I'm alone I need some digital ladies company, no?
take these three games along:
I guess I'm alone so... a football would be enough.
start to learn these three things:
surviving / not missing things at home / that space is the place!
subscribe to these three newspapers / magazines:
The Wire / National Geographic / The New York Times
miss these three things the most about living in a city:
gigs / restaurants / life
invite these three persons for a weekend:
Henrik Rylander / Jean-Louis Huhta / Daniel Fagerström
get these three pets:
Shark / Owl / My friends Jerome & Mattias' cat Misan
learn these three songs by heart:
Morton Feldman
Some Morton Feldman stuff I guess.
take these three tools with you:
Guitar / Surfboard / Knife
Questions answered by: Joachim Nordwall