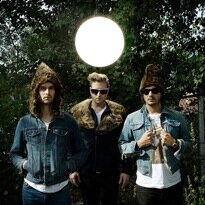 We Are Wolves
are representing the sound of new Montreal like no other band. Like Devo or the Talking Heads they perceive art and music as a conjoint subject - without falling into the art-rock trap. Alexander Ortiz, Vincent Levesque and Antonin Marquis found the common denominator of The Cramps and Add N to X a long time ago.
«Invisible Violence» was released in 2009 on Dare To Care Records.
If you were stranded on a deserted island you would...
take these three books along:
«Build It Yourself - Volume 1 to 12» / «The Art of Conversation» / «The Power of Negative Thinking»
take these three CDs/records with you:
The Velvet Underground - The Velvet Underground & Nico
Kraftwerk - Radioactivity
The Cure - Three Imaginary Boys
take these three DVDs along:
«Down By Law» by Jim Jarmush, with Tom Waits and Roberto Benigni / «Dune» by David Lynch, with Sting / «Juliet Of The Spirits» by Federico Fellini
take these three games along:
Q-Bert / Frisbee / 3-D glasses
start to learn these three things:
dance on my head like the dervish / positive thinking / vertical 69 myself
subscribe to these three newspapers / magazines:
Contemporary / Flash Art / Film Comment
miss these three things the most about living in a city:
riding my bike / cute girls at rock shows / shopping vinyl records with a café latte
invite these three persons for a weekend:
Snoop Dogg / Ian Curtis / Alexander, the same weekend he's with Snoop
get these three pets:
Chica, my dog / the crow from the movie The Crow / any cat
learn these three songs by heart:
Iron Butterfly - In-A-Gadda-Da-Vida
The Velvet Underground - All Tomorrows Parties
Serge Gainsbourg - New York USA
take these three tools with you:
Questions answered by: all members