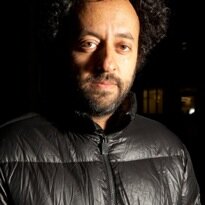 Trevor Jackson
was and still is one of the leading figures in London's underground dance scene. As a graphic designer he was always excited about the visual aspect of music. His sleeve designs for early UK hiphop are quintessential, as well as the packaging of all the releases on his own Output label (from 1996 - 2006) and his own Playgroup project. His best work though was the pop art design of a 12" series for Soulwax. Today he is a well respected DJ and taste maker.
Which song do you listen to when...
you relax on a beach?
Horace Andy
you ride a bicycle?
Yello - Base For Alec
you cook?
Metro Area - Miura
you prepare for an important date?
Tribe Called Quest - Electric Relaxation
you are in a depressive mood?
Björk - Hyperballad
you drive a car late at night?
Kraftwerk - Computerwold
you fall asleep?
Arovane - Tides
you are on a football field?
you jump out of a plane with a parachute?
LCD Soundsystem - Losing My Edge
you sit in a plane?
Closer Music - 123 Gravity
you sit in the subway?
Monolake - Ice
you wake up?
Michael Jackson - Rock With You