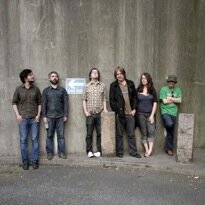 Dark Captain Light Captain
would be the name of Elliott Smith's band were he still be alive. The six-piece outfit from London joins the dots between musical and emotional counterpoints to perfect a harmonical beauty. You could misinterpret this as mere background music if it wouldn't be so damn complex when listening to it closely.
«Miracle Kicker» is out on Loaf.
5 favorite animals
Ducks / Swans / Geese / Pigs / Cats
5 favorite books
Can I mention six? Jack Kerouac: «On The Road» (obvious choice, but it is amazing!) / Fyodor Mikhailovich Dostoevsky: «Crime & Punishment» / Jose Saramago: «Seeing» / Kenneth Williams: «The Kenneth Williams Diaries» / Dave Eggers: «A Heartbreaking Work Of Staggering Genius» / Michael Moynihan & Didrik Søderlind: «Lords Of Chaos: The Bloody Rise Of The Satanic Metal Underground»
5 favorite cartoon characters
Diamond Joe Quimby from «The Simpsons» / Stewie from «Family Guy» / Alan from «Modern Toss» / Esteban from «Cities Of Gold» / Dungeon Master from «Dungeons & Dragons»
5 favorite cities
Oslo / Montreal / Stockholm / Paris / Brighton
5 favorite clothes
smart/casual corduroy slacks / Converse trainers / light interseasonal knitwear / large, impractical headgear / boiler suits
5 favorite human inventions
Music / Language / Photography / Aviation / The internet
5 favorite instruments
Seagull acoustic guitars (a desperate bid for an endorsement there. But seriously, they are fantastic and refreshingly cheap.) / Marimbas / Xylophones / Rickenbacker bass guitars / Very old pianos
5 favorite magazines
Plan B / Stool Pigeon / The Idler / Viz / Private Eye
5 favorite movies
«Jacob's Ladder» by Adrian Lyne / «The Idiots» by Lars Von Trier / «Pan's Labyrinth» by Guillmero del Toro / «Noi Albinoi» by Dagur Kari / «The Empire Strikes Back» by Irvin Kershner
5 favorite personal tragedies
Indecisiveness / Over-analysis / Tottenham Hotspur's largely mediocre performance throughout much of my lifespan / I have never lived abroad (yet!) / I am unlikely to ever reach Grand Master level at chess
5 favorite records
Elliott Smith - Elliott Smith
Nick Drake - Bryter Layter
Pavement - Slanted And Enchanted
5 favorite things that make you sexy
There is no possible way to answer this and come out of it favourably, so I'll pass.
5 favorite things about London
Can I have six again? / Tottenham Hotspur Football Club / Loads of amazing musicians / «Tortilla», an amazing Burrito restaurant in Angel / Friends / The views across the river Thames at night / Many, many superb pubs
5 favorite TV shows
«Screen Burn» / «Fawlty Towers» / «The Office» / «Rising Damp» / «Big Train»
5 favorite personal victories
The birth of my daughter in 2006 / Doing my PhD in psychology (2008) / being in Dark Captain Light Captain (2006 - present) / being successful at avoiding boring jobs / generally keeping going
Questions answered by: Dan Carney (guitar/vocals)