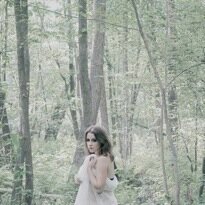 Karolina Stenstöm
makes music under the moniker Steso Songs and describes her style herself as playing the piano drunk like a percussion instrument until the fingers begin to bleed a bit. She moved from Malmö to Stockholm some time ago and is heralded as one of Sweden's emerging artists.
«Now It's Dark» was released in 2010 on Lyckan.
What is your favorite city
Malmö
I've been living in Malmö for six years and I've never really learned to likeit. I don't know why, maybe I just don't fit in. It's boring. I'm actually moving in a month. Thank god.

favorite band hailing from the city?
favorite building?
Stadsbiblioteket (the city library)
favorite club?
«Debaser» at Norra Parkgatan 2. Best bands, best staff, best music, best people.
best day of the week in the city?
what should one eat when in the city?
where was your first flat?
It was a large room in a five-room apartment. Nearly 4 meters to the ceiling. And strange people moving in and out of the other rooms. We used to have parties where too many people showed up and our neigbors called the police. The bathroom was called «Trainspotting». Why? You do the math.
which is the best job one can have in the city?
where do you kiss the last time (or where would you like to)?
It's for me to know and for you to find out.
best movie that takes place in the city?
«Lilja 4-ever» (2002) by Lukas Moodysson
which person from the city you like the most?
favorite restaurant?
«Jalla Jalla» on Bergsgatan. Best place to stop at on your way home from«Debaser» or any black club at night. Try their Falafel and Halloumi.
which song fits the city the best?
Steso Songs - It's Oh Too Dark Tonight
favorite street?
Kristianstadsgatan. Because it leads you to «Debaser», to Möllevångstorget, toMalmö's best record-shop «Rundgång» and to my home.
favorite street corner?
Kristianstadsgatan, Ängelholmsgatan. Where you can find Bagdad livs. And it'swhere I live.