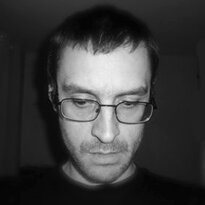 Future Beat Alliance
is one of the solid guarantees that Sheffield won't disappear off the techno map. For more than a dozen years now, Matthew Puffet and his label Void are pursuers of the way Warp once paved. But Puffet is also a welcomed guest on labels like Rush Hour, Versatile and Emoticon.
a song that reminds you of school
Demon Boyz
Hijack
Well, all that 80's UK Hiphop and some soul music.
best Beatles song
The Beatles - She Loves You
Evokes early child hood memories.
a song guaranteed to make you feel depressed
Nick Drake
record you were looking for the longest
X Marks The Pedwalk - Solitude
a record you fell in love to
I have not found love yet!
first record you remember
The Human League - Don't You Want Me
the song to be played at your funeral
Queens Of The Stone Age - No One Knows
a song that evokes the greatest summer of your life
Another Fine Day - Salvage
It's an ambient album from 2000.
your ultimate heartbreak song
Sinéad O'Connor - Nothing Compares 2 U
your liberation anthem
Laurent X - Machines
your party anthem
Altered Images - Happy Birthday
first record you bought
Altered Images - Happy Birthday
a song that reminds your friends of you
Carl Craig - Landcruising
perfect anthem for Sheffield
LFO - LFO
a song you wish you'd written yourself
Carl Craig - Landcruising (LP)