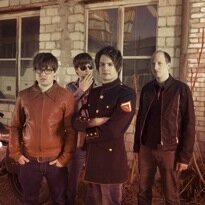 Jesh
is a four-piece rock band from Zurich, Switzerland. They play britpop influenced songs as if they like to step into the gap Oasis left behind.
web
«The Black EP» was released in 2010 on SignoriMisteriosi.
Top 10 albums of all time
No. 1
Ryan Adams - Love Is Hell
(Lost Highway, 2004). Ein wunderbar stimmiges Album. Der Typ spricht mir einfach aus der Seele. Und für diejenigen, die es noch nicht wussten: Ryan Adams und ich wurden in einem Paralleluniversum bei der Geburt von einander getrennt.
No. 2
Oasis - Definitely Maybe
(Creation, 1994). Bedarf das noch Erklärungen? DIE Band schlechthin, die mich durch meine Teenie-Jahre begleitet und musikalisch geprägt hat. «Definitely Maybe» sollte die Messlatte für einfach alles im Leben sein. So wird es dann auch mit dem Jesh-Debut «Happy Now».
No. 3
Bob Dylan - Blonde On Blonde
(Columbia, 1966). Eine Platte, die sich ausgezeichnet als Hintergrundmusik beim Hemden bügeln eignet. Im Ernst jetzt. Vor allem «Leopard Skin Pillbox Hat».
No. 4
The Beatles - White Album
(Parlophone (EMI), 1968). Wieder eine der vielen Bands, die mich in meiner Jugend sehr geprägt hat. Mit «Helter Skelter» und «Happiness Is A Warm Gun» zwei Vollbrüller auf diesem Doppelalbum. Monumental.
No. 5
Paul Weller - 22 Dreams
(Island/Universal, 2008). Dem Mann kauf ich einfach alles ab. Auch wenn es der grösste musikalische Dreck aller Zeiten wäre, sobald Paul Weller seinen Namen drunter setzt, MUSS es ein Meisterwerk sein. Er ist definitiv mein persönlicher Musik-Gott. Und meine Inspiration beim Friseur.
No. 6
The Cure - Seventeen Seconds
(Fiction, 1980). Robert Smith ist der Grund dafür, weshalb ich noch immer gerne zum Haarspray greife. Und «A Forest» ist ja wohl einer der geilsten Songs überhaupt.
No. 7
Ludwig Van Beethoven - The 9 Symphonies
Im zarten Alter von 6 bis 20 Jahren hab ich Geige gespielt und aufgrund dessen meinen Bezug zur klassischen Musik nie verloren. Die CD-Box mit den neun Symphonien stellt mein Ohren-Reinigungs-Set dar, wenn ich mal wieder musikalisch vergewaltigt wurde. Irgendwie muss ich ja meinen wichtigsten Sinn wieder neutralisieren bei so viel Scheisse auf dem Markt.
No. 8
MGMT - Oracular Spectacular
(Red Ink/Columbia, 2007). Eine Band, die mit ihren Melodien glänzt. MGMT ist wohl einer der wenigen Gründe, wieso ich überhaupt noch an diesen New-Rave-Indie-Trend-Huren-Parties aufkreuze. Eine Band kann sich ihre Fans schliesslich nicht aussuchen.
No. 9
Smashing Pumpkins - Mellon Collie & The Infinite Sadness
(Virgin, 1995). Der erste Zungenkuss, einmal abspritzen auf das Susanna Hoffs Soloalbum-Booklet: Das war Pupertät in den Neunzigern! Und so ist es auch dieses unsagbar geile Werk voller Hymnen, welches mich noch heute mit all meinen Jugendsünden verbindet.
No. 10
The Muffs - Alert Today, Alive Tomorrow
(Honest Don's Hardly, 1999). Ein guter Grund, warum ich nie Weezer gehört habe. Jeder der die Muffs kennt, wird Weezer für überflüssig halten. Eine grossartige Band, die all meinen Respekt allein schon wegen ihrem Bandnamen hat.
Questions answered by: Tobey Lucas (vocals/guitars)