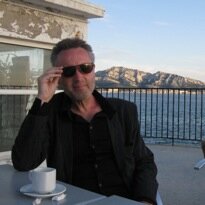 Whitehouse
was founded in 1980 by William Bennett and is known as the pioneer of the power electronics genre. The uninitiated would call the music of Whitehouse simply noise, and label the lyrics that deal with mass murders, rape and war as pure trash. For the rest of the world William Bennett is a living legend.
«Racket» was released in 2007 on Susan Lawly.
a song that reminds you of school
T. Rex - Get It On
You were either into Bowie or Bolan at my schools. I was definitely of the latter persuasion.
best concert you ever attended
Tom Jones at MGM, Las Vegas
That's an easy one: Tom Jones at MGM, Las Vegas. It's funny because anywhere else and it wouldn't have been nearly so much fun.
best David Bowie song
I was a Marc Bolan kid, remember?
a song guaranteed to make you feel depressed
The Beatles - Yesterday
How about almost anything by The Beatles, for example, «Yesterday»? In truth, there isn't much pop and rock that doesn't make me feel depressed.
first record you remember
Burt Bacharach - The Look Of Love
The melody of «The Look Of Love» by Burt Bacharach was a song I used to be obsessed with at a very young age – without, at the time, even knowing what it was or who it was by.
Yoko Ono - Fly
When I was already about 17, I used to always listen to music on the radio and didn't own a turntable until much later than most kids.
the song to be played at your funeral
I'd prefer to disappear without trace than have any kind of funeral.
a song that evokes the greatest summer of your life
Paul Sharada - Dancing All The Night
This was constantly on the radio in Barcelona when I moved there in the summer of 1985. Magical times.
your ultimate heartbreak song
The Carpenters - (They Long To Be) Close To You
Karen Carpenter's extraordinarily beautiful voice always makes me well up.
your party anthem
Baby's Gang - Happy Song
If I had to nominate one impossible-to-resist record it'd be «Happy Song» by Baby's Gang.
best soundtrack ever
Cannibal Holocaust
By the genius that is Riz Ortolani. Although I could just as easily have chosen his soundtrack for «La Ragazza Dal Pigiama Giallo», also a masterpiece.
your sunday morning song
Francis Lai - Scene d'Amour
Such a stunningly gentle pretty song like a magical lullabye in reverse.