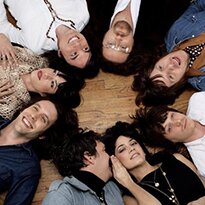 Phenomenal Handclap Band
might be the quintessential New York act these days. An eight headed collective – led by the producers and DJs Daniel Colls and Sean Marquand – that melds the sounds of prog rock revivalism, proto disco, psychedelica, soul rave-ups and the occasional hand clap into a heady mix that transports the heritage of the Big Apple's dancing days into the here and now.
«The Phenomenal Handclap Band» was released in 2009 on Gomma.
Questions answered by: Sean Marquand (S) and Daniel Collas (D)