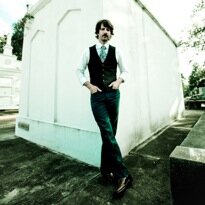 AM
is a L.A.-based tunesmith with a widespread acclaim by merging pop, soul, folk, R&B and psychedelia into highly personalized songcraft. In addition to releasing several albums (including 2010's «Future Sons & Daughters»), he spent practically all of last year out on the road touring with a diverse range of artists including AIR, Charlotte Gainsbourg, Josh Rouse and legendary Brazilian tropicalia icon Caetano Veloso.
«Celestial Electric» was released in 2011 on ESL.
Top Ten Albums (for right now and in no particular order). All time is impossible.
No. 1
Arthur Verocai - Arthur Verocai
Amazing Brazilian composer, producer and songwriter. This album went largely unnoticed in it's day. It's a classic.
No. 2
Jorge Ben - A Tabua de Esmeralda
I'm a huge Jorge Ben fan. So picking one album is tough, but there is something special about this record. A tight, stripped down combo. And his guitar playing is so funky. I can't get enough of this record.
No. 3
Piero Umiliani - Il Corpo
He is one of my favorite Italian composers. His work is vast so it's tough to narrow it down, but this soundtrack is one of my favorites. It's spacious and the use of synth strings against the funky stripped down rhythm section is right up my alley.
No. 4
Selda - Selda
This was my first Finders Keepers purchase and after that I was hooked. This 70's Turkish prog gem is otherworldly.
No. 5
Marcos Valle - Previsao Do Tempo
A friend of mine showed me this record ages ago (waaaay pre youtube). It took me forever to find it, but I finally did. It's Valle at his more experimental. It's like drug induced Trop-pop, but expertly recorded.
No. 6
Vince Guaralidi Trio - A Charlie Brown Christmas
Best Christmas record ever. Jazzy, creepy. What more could you want.
No. 7
David McCallum - The Edge
David Axelrod At Capitol Records 1966-1970: Carol Kaye + Earl Palmer + an Orchestra = pure genius.
No. 8
Wilco - Yankee Hotel Foxtrot
A modern masterpiece. I love a lot of what Wilco does, but this album is perfection.
No. 9
Pink Floyd - The Dark Side Of The Moon
I mean, do I need to say anything? Doesn't everyone in the world like this album?
No. 10
Van Halen - Fair Warning
Yes, you read that correctly. It's funky and it's weird. Listen again.