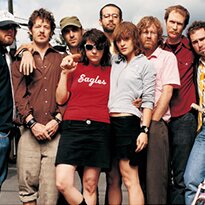 Broken Social Scene
can confidently be called the first supergroup of Canadian indie rock. Since 1999 the two founders Kevin Drew and Brendan Canning invite friends and like minded musicians (from Feist to Sebastien Grainger and Emily Haines) to make some of the most perfect pop music out there.
«Forgiveness Rock Record» is out on Arts & Craft Records.
a song that reminds you of school
Sniff 'n' The Tears - Driver's Seat
Maestro Fresh Wes - Let Your Backbone Slide
your boozed up anthem
I prefer silence when drinking.
a song guaranteed to make you feel depressed
first record you remember
Stevie Wonder - Sir Duke
the song to be played at your funeral
The Who - Won't Get Fooled Again
a song that evokes the greatest summer of your life
Dexys Midnight Runners - Come On Eileen
your ultimate heartbreak song
Willie Nelson - Stardust
a song that inspires you
Joni Mitchell - The Hissing Of Summer Lawns
first record you bought
Triumph - Rock n' Roll Machine
a song that reminds your friends of you
Grace Jones - Pull Up To The Bumper
If you were stranded on a deserted island you would...
take these three books along:
Herman Melville: «Moby Dick» / Robertson Davies: «Fifth Business» / Timothy Findlay: «Not Wanted on the Voyage»
take these three CDs/records with you:
Link Wray - First Album
Public Enemy - It Takes A Nation Of Millions To Hold Us Back
John Coltrane - Ascension
start to learn these three things:
play cello / use pro tools / carpentry
miss these three things the most about living in a city:
repertory cinemas / pretty girls / the beat
invite these three persons for a weekend:
My girlfriend and two other people who would make her feel comfortable.
get these three pets:
a monkey / a cat / a raccoon
learn these three songs by heart:
Jamie Cullum - Well You Needn't
Herbie Hancock - Maiden Voyage
Black Sabbath - Supernaut
take these three tools with you:
a guitar / a knife / a bottle opener
Questions answered by: Brendan Canning