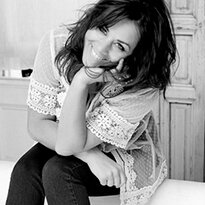 Rumer
is the stage name of London singer-songwriter Sarah Joyce who was born in Pakistan in 1979. As the youngest of seven children, she soon developped an interest for adult orientated music like Joni Mitchell, Judee Sill and Neil Young and is still dreaming of composing music for a huge orchestra. When Burt Bacharach discovered her music, he paid for her flight to California so he could hear her sing.
a song that reminds you of school
Aretha Franklin - I Say A Little Prayer
I used to walk to school with a tape on my walkman.
best Beatles song
The Beatles - Come Together
What's great about it is that you can make any words fit the tune.
best concert you ever attended
I don't really go to concerts. I once wandered into a church and there was a west African choir rehearsing and I thought it was amazing.
a song guaranteed to make you feel depressed
Anything I have written myself, usually!
a record you fell in love to
Chris Montez - Our Day Will Come
Composed in 1963 by Bob Hilliard and Mort Garson. The most famous version is probably by Ruby & The Romantics. I prefer the one by Chris Montez.
first record you remember
Terry Jacks - Seasons In The Sun
I was about five and going through my teenage sister's bedroom when she was out and playing all her records. The song was so sad I just sat on the bed and cried. I couldn't understand who Michelle was, and why the man was saying he had to die.
the song to be played at your funeral
Judee Sill - The Kiss
It has the most spectacular change in it which destroys me every time I hear it. It's one of Judee Sill's many psychadelic hymns. I love her.
a song that evokes the greatest summer of your life
Hoyt Axton - Greenback Dollar
your ultimate heartbreak song
I Loves You Porgy
From the Gershwin opera «Porgy And Bess». It's a killer, especially the middle part where it goes «...it's gonna feel like dyin' Porgy.»
perfect anthem for London
The Jam - That's Entertainment
That pretty much says it all.
your party anthem
Bill Withers - Use Me
first record you bought
Cliff Richard & The Young Ones - Living Doll
My granny took me to Woolworths and I wanted «Living Doll» on vinyl. I was the biggest 6 year old Young Ones fanatic on the planet.
a song that reminds your friends of you
Judy Garland - Over The Rainbow
a song you wish you'd written yourself
Dusty Springfield - Just A Little Lovin'
Originally written by Barry Mann and Cynthia Weil. Its melodically and structurally perfect.