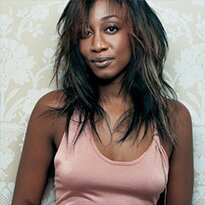 Beverley Knight
was raised in a strict Catholic home in Wolverhampton and was allowed to hear only gospel music as a child. She continues this background with her radio show «Beverly's Gospel Nights» on BBC2. As one of the best soul singers from Britan she has received three MOBO awards and after more than a decade in the industry – the name says it all – was given a knighthood by the Queen in 2007.
«Soul UK» was released in July 2011 on Hurricane Records.
Which song do you listen to when...
you come home from the club?
Sam Cooke
His voice is so authoritarian. It's almost like my dad would speak to me. It also reminds me of my dad singing me into my sleep when I was a child.
you relax on a beach?
Chaka Khan - Move Me No Mountain
I just came back from a beach holiday. And I listened a lot to Chaka Khan. So let's say «Move Me No Mountain» by her. All of her songs feel like sunshine to me!
you camp in the desert?
The Brand New Heavies - Midnight At The Oasis
I like the voice of N'Dea Davenport. And I think this song would be perfect for this occasion.
you go to a club?
Fedde Le Grand - Put Your Hands Up For Detroit
Oh my god, when I go to a club and they play that... I'm so happy!
you cook?
John Holt - 1000 Volts Of Holt
That's easy as well. I got an iPod system in my kitchen and I only got Reggae on it. So I would listen to John Holt's "1000 Volt". I only cook Carribean cuisine, cuz I basically can't cook. That's the only meals I know.
you want to disturb your neighbours?
Lenny Kravitz - Are You Gonna Go My Way
That would really piss them off. Cuz my neighbours are quite old.
you drive a car late at night?
Beyoncé - Crazy In Love
I normally listen to hiphop or R&B in my car. So it could be «Crazy In Love», cuz it's got such a driving beat.
you are love sick?
Mary J. Blige - Not Gon' Cry
When she talks about how he was too busy loving himself, and now he's loving someone else after all this time and how she wasted all her years and how she should have left him long time ago... It's just a great song when you're down in the dump and you can feel even more miserable.
you make love?
Prince - If I Was Your Girlfriend
That's an easy one. That song makes me shiver.
you jump out of a plane with a parachute?
Led Zeppelin - Stairway To Heaven
Oh my god! I need something that would give me courage, something so loud I would forget what I'm actually doing, something that can hypnotize me. Maybe «Stairway To Heaven». Cuz that's where I probably would end up anyway...
you play ping-pong?
The Chemical Brothers - Hey Boy Hey Girl
I never played ping pong in my life! I'm absolutely rubbish with everything that has to do with a ball and a racket. If I would try it though, I would listen to "Hey Boy Hey Girl". Cuz it's quite hectic and I love that tune!
you sit in a plane?
Aretha Franklin - I Never Loved A Man The Way I Love You
The whole album. Cuz when I'm on a journey I need to hear a voice that is as flawless as possible. And Aretha's voice is just that - absolutely flawless!
you have to spend a night in a spooky hotel?
Marvin Gaye - What's Going On
I'd need something to ease my mind. I couldn't listen to something scary like Dr. Dre...
you sit in the subway?
Amy Winehouse - Back To Black (LP)
Lately I was listening to «Back To Black». I kinda has a carmic influence on me. It's very well produced and I really like her voice. Songs like these help me when I have to wait for something to happen.
you wake up?
Earth, Wind & Fire - September
I just love Earth, Wind & Fire. They are so lively and timeless. And I absolutely love that song and it makes me so happy!
you wash your hair?
I normally listen to my own songs. So I can focus on which guitar is where out of tune. Stuff like that.