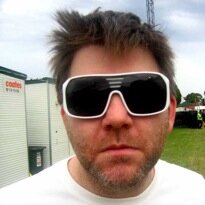 James Murphy
is the mastermind of LCD Soundsystem. The notorious New Yorker is also head of DFA Records and one of the leading characters of the Big Apple's underground dance scene.
«This Is Happening» was released in 2010 on DFA.
Which song do you listen to when...
you relax on a beach?
The B-52's - Dirty Back Road
you ride a bicycle?
T. Rex - Jeepster
you go to a club?
Some shit that some horrible DJ is foisting onto a crowd of deluded shit bag hipsters.
you cook?
Terry Reid - Sweater
you prepare for an important date?
Buzzcocks - Why Can't I Touch It?
you are in a depressive mood?
Leonard Cohen - Famous Blue Raincoat
you destroy a hotel room?
Big Black - Songs About Fucking
you drive a car late at night?
NEU! - NEU! 75
you fall asleep?
Aphex Twin - Selected Ambient Works Vol II
you make love?
Yes - Starship Trooper
you jump out of a plane with a parachute?
LCD Soundsystem - Never As Tired As When I'm Waking Up
you play a game of chess?
Shriekback
I am absolutely terrible at chess. I prefer Backgammon, during which I would want to hear the first Shriekback record.
you sit in the subway?
Leonard Cohen - Famous Blue Raincoat
you wake up?
The Velvet Underground - Sunday Morning
you wash your hair?
Chrome - Firebomb