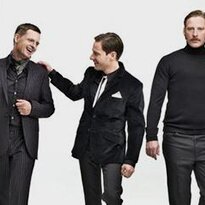 GusGus
was initially formed as a film and acting collective from Reykjavik but became mostly known for their electronic music and visually enhanced shows. The group recorded seven studio albums and one live album since their foundation in 1995, and has undergone several line-up changes.
«24/7» was released in 2009 on Kompakt.
Which song do you listen to when...
you go to a club?
Happy Mondays - Hallelujah (Paul Oakenfold Remix)
Q-Burns - Anstract Message
you drive a car late at night?
AC/DC - Highway To Hell
Sonny Rollins
Stefan: Something from Sonny Rollins.
you make love?
PPPönk - Ultra Dance
you sit in a plane?
Gus Gus - Anthem
Siggi: It's on the soundtrack of «Pi».
Tschaikowsky
Stefan: Something from Tschaikowski.
you sit in the subway?
Siggi: There's no subway in Reykjavik!
Stefan: There's no subway in Reykjavik!
you wake up?
Des'ree - Kissing You
Cal Tjader - Afro Blue
Stefan: Some Californian Jazz like Cal Tjader.
Questions answered by: Magnús Guðmundsson and Stephan Stephensen