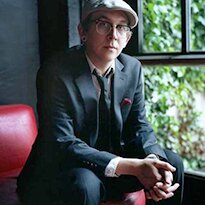 Micah P. Hinson
was discovered by UK/US-combo The Earlies. When they first heard the self recorded demo tapes by the 18-year-old Texas skater-hobby-musician they were shocked about his weathered poetry and spread the gospel. Hinson's debut won him national acclaim in 2004. Tours followed with the young artist opening for kindred spirits like Will Oldham, Calexico and Iron & Wine.
«Micah P. Hinson and the Pioneer Saboteurs» was released on Full Time Hobby in 2010.
a song that reminds you of school
The Toadies - Backslider
Me and a good pal of mine growing up used to listen to this song constantly. We were managers on the school American football team, so we had a lot of time on our hands. But, the song is some real heavy shit. I felt like I understood every word as a child, being raised in such a religious place. I wouldn't imagine many people to know this band outside of Texas. They are one of the best rock `n roll bands of the last 20 years. No shit.
perfect anthem for Abilene
The Friends Of Dean Martinez - All The Pretty Horses
It's off a record they did called «The Shadow Of Your Smile». They are all former members of Calexico. I think, and know, that the friends are much better. They are a beautiful band that make beautiful music. They have been affecting my life for years now. Now let them affect yours.
best concert you ever attended
Eric Bachmann
In Austin, Texas, at The Parish. He was the fella who helped me do the strings and horns for my attempt, «The Opera Circuit». He had been, and still is, a hero of mine. His music changed my eyesight. Everything afterwards looked a little bit different. To be able to work with him was surely a dream come true. Well, he came through town with a few ladies at his side, playing drums, keys, and backing vocals. The three of them stood up there for the better part of an hour, but it slipped by so quickly, as the words they sang, the way they sang them, his guitar, just everything was perfect. I've never witnessed anything like it. He is surely underrated.
best Bob Dylan song
Bob Dylan - To Ramona
He has a lot of damn good songs, but something is so simple about this one that it really stands out to me. My folks, nor my brother, never got me into Mr. Dylan. So growing up, I never heard his songs. All I really knew was that he wrote a few songs for Jimi Hendrix, so I figured he was, or had, to be good. It wasn't until I went to New Zeeland, that a record store owner gave me all Mr. Dylan's records. Actually, me and the guy were talking, I told him that I didn't listen to Mr. Dylan, he was astonished, made a huge stack of records for me to have and listen to, then during an instore I did at this place I made some comments about buying my records from me and not the shop, the guy for pissed, then forced my distributor to pay for all the records he had given me. You have to understand that record prices in NZ are crazy. Like $35 dollars a record, and in their money: madness. So yeah, that's how I first got into Mr. Dylan. Without that story, I bet I'd still be thinking Mr. Hendrix did good covers.
your boozed up anthem
Shit, I don't get pissed. Sorry.
a song guaranteed to make you feel depressed
At Swim Two Birds - Darling (Remix)
I heard this song a comp. I got from somewhere at sometime. I can't rightly remember. I don't even know who this band is or where they are from. But this song is crippling. Good god, I can't even explain. Just find it, get a bottle of booze, take a few shots, make sure the guns are locked away, and press play.
record you were looking for the longest
The Smashing Pumpkins - Melancholy And The Infinite Sadness
When I was a teenager this was what I was into. I still find a lot of damn good things about them even today. Most bands that I liked when I was young just didn't, and can't, stand the test of time. But, their record «Siamese Dream» had been out for ages, that's clearly the record they blew up on, so they were out on tour for what seemed like a fucking eternity. So me and my brother and our friends waited and waited for a new record. We even went out and saw them as much as we could. It was a double LP, so the day my brother and me went out in my beat-up old silver BMW and bought the record, I didn't know what to expect. I had never seen a double LP. We put the CD in the stereo, and I expected huge guitar parts etc., all that they used to be, but all of a sudden I heard a piano solo, then strings, then melotron violins, then the second song came on and the drums were huge and the orchestra were crumbling the streets below us. Astonishing. I'll never forget that. I'm sure my brother won't either.
a record you fell in love to
Neutral Milk Hotel - In The Aeroplane Over The Sea
The wife and I fell in love to this record. An odd one to fall in love to, but I remember it playing on my half-broken record player night after night: me, drinking and taking my back, her, sober as the day is long. I never could figure out what she saw in me. Hell, I still don't. I'm just a lucky bastard, I suppose.
first record you remember
John Denver - Greatest Hits
I remember my ma used to do this thing. We'd be driving in the mountains, heading up to Taos, New Mexico, to spend our summers with a genius artist, Jerry Jordan, and my ma would make my pa turn off the headlights, slow way down, and we would listen to Mr. Denver, pretending we were in a covered wagon. It's funny 'cause I don't think they had speakers in covered wagons, much less John Denver songs about airplanes.
the song to be played at your funeral
The Reverend Horton Heat - Big Sky
a song that evokes the greatest summer of your life
The Beach Boys - Pet Sounds
A mate of mine, Austin Hobbs, handed me this on tape during one of the most productive summers of my life. It was the first summer I really began to turn into something that resembled an adult, or a man. I was working a cook job and was getting up a 4:30 every morning. I got picked up and worked with an old black man who was, and still is, very dear to my heart. We would smoke joints after work, and he would tell me stories of dealing heroine out of camel skin coats in NYC, or watching prostitutes getting beaten with coat hangers, or how he was the first black man to be a student body president in Texas, or how he spent a stint in Huntsville Prison. That's where we kill people legally in the state of Texas. He was an amazing man. I often wonder what he is doing now.
your ultimate heartbreak song
Del Shannon - Runaway
That man's voice is so broken. You can feel his pain. I've never heard anything like it, maybe in the voice and songs of Roy Orbison. Hell, it's a tie really. But Del Shannon brings something unearthly to this song. He's channeling something mere men cannot.
your party anthem
Bee Gees - Tragedy
It's a damn sad song, but hell, even sadness can make you move your ass. If you can't move your ass to sadness, then your well up shit-creek, my friend, as you are taking life entirely too seriously.
first record you bought
Depeche Mode - Violator
I saved several weeks of allowance that my folks gave me to buy me a record. I remember my ma driving me to the store and I bought it. I was worried it was going to be shit, as I had saved up for so long. I got home, put my headphones on, and was mystified. A damn special moment for little ears.
a song that reminds your friends of you
Damn, I think you'd have to ask them. Maybe any of my songs? They sound like me...
a song you would use as a ring-tone
a song to seduce you
Santo & Johnny - In The Still Of The Night
If you've heard it, you understand. If you haven't, find it, and you will.
a song you would send over the ocean
Toppie Haynes - Gettin' It Done
I've been friends with this hillbilly for the better part of my life. I remember the day he bought his first guitar. I remember his first song. He wrote this one a few years back, and I told him he could give up and hang his hat on this song. He couldn't do any better. He doesn't have a record deal. Or a least a proper one. I'm starting a small label called «The Recordings of the Republic» and we are gonna release a 12'' vinyl of his first record as soon as we get everything in place. With any luck, we might be under the umbrella of Houston Party Records, out of Barcelona, Spain. It will be limited, but absolutely brilliant. He is a brilliant songwriter. And a brilliant fella. And this is a brilliant song.
your sunday morning song
The Velvet Underground - Sunday Morning
I know this sounds ridiculous. But I heard that record when I was about thirteen years old. A pal of my pa let me hear it. I was hooked. So every Sunday morning I would put that song on, as I would get ready for church. I was, and is, such an endearing song.
a song you wish you'd written yourself
Roy Orbison - Crying
The guy was an angel. He spoke with the voice of a god.