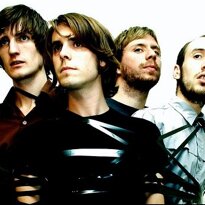 The Late Greats
is a foursome from Eastbourne and were formed in 2005. In their own words their songs are inspired by «the surroundings of a seaside town, dead friends, hating the city and what it does to your girlfriend, hopeful musings about a better life with better people, and of course, love.»
Which song do you listen to when...
you feel like 1982?
Dirty post punk which violates all of your mates ears. Friendships can be tested at these moments.
you come home from the club?
Any old crap 80's 7 inches you've got because by that time of night you can get away with guilty pleasures without getting cursed at.
you prepare a candle light dinner?
Talking Heads - Burning Down The House
In case you catch the curtains on fire.
you go to a club?
Pavement
So you can bend weird shapes and jump around like a prick at the same time.
you run naked through a cornfield?
The Kinks - Waterloo Sunset
To get a dreamy lovey feeling whilst running with our nuts on display.
you prepare for an important date?
Iggy Pop - Success
you want to disturb your neighbours?
Alice Cooper - School's Out
Motörhead - Ace Of Spades
Because everyone knows the words and would sing it in a drunken choral mess.
you drive a car late at night?
Bing Crosby
Anything on Bob Dylans Radio 2 show, because he plays old bluegrass and Bing Crosby. It suits the motorway.
you are love sick?
Frank Sinatra
you make love?
N.W.A. - Straight Outta Compton
you sit in a plane?
Loudon Wainwright III - Swimming Song
In case we crash into the sea.
you have to spend a night in a spooky hotel?
Daniel Johnston - Casper The Friendly Ghost
We could sing it really loud and not worry about it being out of tune and scaring off the ghosts.
you stay in bed?
Neil Young
To make you wonder why you get up in the morning in the first place if life is really that hard to deal with.
you sit in the subway?
Public Image Limited
Really loud so it pisses everyone off.
you wake up?
Wire - Practice Makes Perfect
So it can remind us to live our lives in complete harmony and perfection to which society expects.