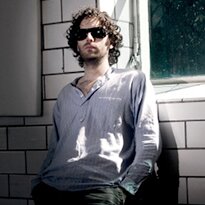 Lopazz
is Stefan Eichinger's recording name. The thirty-something maintains a studio in Heidelberg, where he primarily records movie scores, and runs the label HD800 Achtspur since 1996. But it was his quirky house track «I Need Ya» that made him one of Germany's most sapid dance music producers. His live sets are worth checking out.
«Imagination» was released in 2010 on Get Physical.
Which song do you listen to when...
you relax on a beach?
Sly & Robbie
Die 100% Dynamite-Compilation auf Soul Jazz Records!, Sly & Robbie, Bob Marley, Black Uhuru....
you ride a bicycle?
Thin Lizzy
Danke für diese Frage. Ich liebe Fahrrad fahren und habe meinen iRiver immer mit dabei. 40 GB meiner Plattensammlung trage ich da mit mir herum. Aber auf dem Bike gibts nur «Antriebsmusik» wie The J.B.'s oder Thin Lizzy.
you go to a club?
Alex Cortex - Inward CTRL
Kommt drauf an in welchen Club ich gehe, aber etwas smoothes, grooviges muss es schon sein, wie «Inward CTRL» auf Ann Aimee.
you run from the cops?
Lopazz - Looping
Ha, da gibts nur eins: «Looping», ein Song von mir, ist vielleicht etwas blöd, einen Song von sich selbst zu nehmen, aber «Looping» ist DER Verfolgungskillersong!
you prepare for an important date?
Gehe ich in mich und lenke mich nicht ab mit Musik.
you drive a car late at night?
Johnny Cash
you are on a football field?
Der Ball ist rund. Das Spiel dauert 90 Minuten. Nach dem Spiel ist vor dem Spiel. Man muss den Ball flach halten. Im Stadion gibts keine Chance sich gegen Queen zu wehren...
you make love?
Ein DJ-Set von ND_Baumecker, denn das ist Liebe und Action pur! ausserdem wäre ein Song viel zu kurz...
you jump out of a plane with a parachute?
Hahaha, da braucht man keine Mucke, oder?
you meet your parents?
Elvis Presley
Wenn ich bei meinen Eltern bin gibts nur ELVIS!
you sit in a plane?
Genau das gleiche, im Flugzeug konzentriere ich mich auf den Druckausgleich. Um meine Ohren zu schonen gibts keine weiteren Schallquellen.
you play a game of chess?
you are in the sauna?
In der Sauna ? Ich schwitze nur auf meinem Bike wirklich gerne.
you sit in the subway?
Oh, in der U-Bahn lausche ich den Geräuschen, somit: keine Songs.
you wake up?
Whitesnake - Bad Boys
Und ich gut drauf bin? Dann wohl «Bad Boys» – wenn ich schlecht drauf bin dann wohl eher irgendwas von Hermann van Veen, um mich wieder aufzurappeln.
you work in the garden?
Eine gute Frage, denn ich habe einen sehr grossen Garten und arbeite da auch regelmäßig. Auf meinem iRiver hab ich dafür UKW-Empfang und höre HR2 oder SWR2, also Klassik und Jazz.