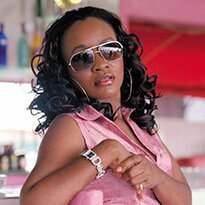 Tanya Stephens
was one of the most important female dancehall artists in the 90's. «Yuh Nuf Ready Fi Dis Yet» was her breakthrough hit in 1996 and was the ignition for countless collaborations and several hits. Today the First Lady of Dancehall lives in Sweden.
«Infallible» was released on Tarantula Records in 2010.
Which song do you listen to when...
you relax on a beach?
Uncle Cracker - Follow Me
you ride a bicycle?
Johnny P - Bike Back
you camp in the desert?
TLC - Waterfalls
you run from the cops?
Toy Capone - God Help Me
you run naked through a cornfield?
Police sirens. They will come and catch me!
you fall asleep?
Kenny G.
you remember the good old days?
Tiger - No Wanga Gut
you had enough of this world?
Simon & Garfunkel - The Sound Of Silence
you want to get inspired?
John Lennon - Imagine
you are love sick?
Wheatus - Teenage Dirtbag
you need to get work done?
Smokey Robinson